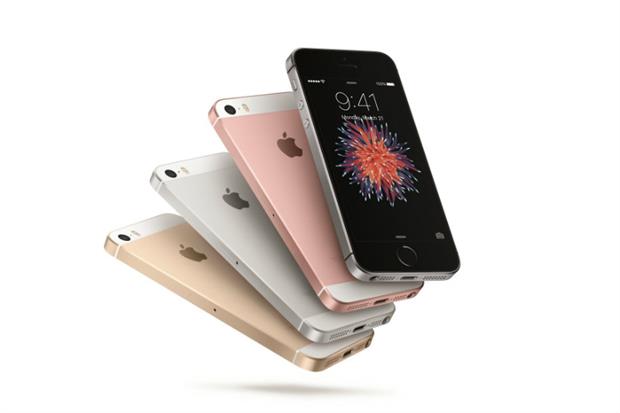 The new iPhone SE may hark back to an earlier time in terms of screen size but its relatively cheap price tag of £359 makes it affordable for those in emerging markets. As with any new Apple product, many in the advertising world are already questioning what the cheaper (and more importantly smaller) phone means for them and their clients.
Although there are concerns that the iPhone SE and its smaller screen are a step backward for our industry, we are viewing this new device as an opportunity for innovation.
It's not just Apple that can look forward to taking advantage of new markets; advertisers are also being handed a great platform to further reach the populations of countries such as China, India and Turkey. If Apple is able to succeed in broadening smartphone adoption in emerging markets, that means more eyes on screens and is ultimately good news for brands and advertisers looking to target these increasingly affluent populations.
Not only will our industry have a larger market to play with, we may also see a flourishing of creativity in the types of mobile ads that are produced. From our own experience, emerging markets such as Turkey are more receptive to interactive campaigns. Perhaps this is because consumers in these markets are less jaded with digital advertising and therefore more open to innovative ways of being marketed to.
Creativity across mobile ad campaigns can manifest itself in several ways. Moving beyond video ads, we've seen some great examples already, with some campaigns making use of gamification and others utilising a smartphone's hardware, i.e. the in-built gyroscope and accelerometer features that adjust screen orientation as users move their mobiles.
Haptic technology, essentially where mobiles vibrate in-line with the visual creative, provides a further example of how a smartphone's features can be pushed further to engage viewers of mobile ads.
The new iPhone SE's specifications make it more than capable of running ads with these types of creative features. It is likely that as more innovative mobile ads are created for users in emerging markets, we will see a greater abundance of these creative executions throughout Europe and the US.
Something flagged as a possible drawback has been the new phone's smaller screen. Over the past year or so, advertisers have been getting used to having a larger canvas with which to work. The SE's dimensions take us back to 5S territory. It will be interesting to see whether this latest product will halt the growing screen trend we've seen over recent years.
In our eyes size shouldn't necessarily be a challenge for advertisers, as the industry has worked with similar dimensions before. By following best practices in mobile video, such as using quick cuts, shorter run-times and not being over reliant on sound, advertisers can still make an impact.
The growth of vertically formatted mobile ads which favour portrait over landscape will likely work well on the smaller screen. By fitting snuggly on a user's screen they can offer a visually engaging experience. Publishers such as Snapchat have already experimented with this format and the results have been impressive. Recent ads that we've ran have showcased around 90 per cent increases in completion rates, when portrait was pitted against in-line video units, i.e. any video that features in a display ad.
It is up to the ad industry to make the formats and devices we are presented with work for us. Apple's latest product offers advertisers and brands a foothold into emerging markets and also opens the door for more a creative output.