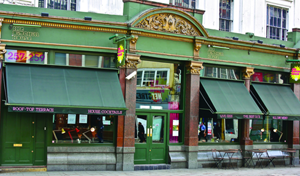 The house is expected to attract 40,000 people from Friday 27 July until Sunday 12 August, and will feature live music and comedy performances from famous Irish artists.
James Sinton, chief executive of Sports Tours, which is organising the house alongside the Olympic Council of Ireland, said he wants the house to be the "number one party destination at the Games".
"We are delighted to be partnering with the Big Chill House as it is an iconic brand and its owners bring a wealth of entertainment experience to the table," he said. "They have long been associated with cutting edge music venues and bars as well as the hugely popular Big Chill Festival."
Throughout the Games, the house will feature guest appearances from various Irish musicians, comedians and actors. It will provide a base for athletes and their supporters, as well as representatives of the Olympic Council of Ireland and their guests.
Sinton said organisers were keeping the names of the acts secret to create social media excitement, which he hopes will drive "high levels of repeat visitors" to the house.
"As a nation, the Irish are famed for their love of sport and of celebration and we are confident that the recently re-launched Big Chill House will provide us with the perfect location to bring the very best of Ireland to our visitors," he said.
Kings Cross will be one of the main transport hubs during the Olympics and a frequent Javelin train will run between King's Cross St Pancras station and the Olympic Park.
Pat Hickey, president of the Olympic Council of Ireland, added: "The Irish Olympic House will undoubtedly be a magnet for our supporters due to its excellent central location and superb facilities. It will, of course, be open to all-comers and nationalities and we expect it to be a huge success."
Will you be paying the Irish house a visit? To leave a comment register and let us know your thoughts.
To read our interview with Westfield Stratford head of Olympic brand alliance don't miss the next issue of Event magazine by subscribing here.
Tweet