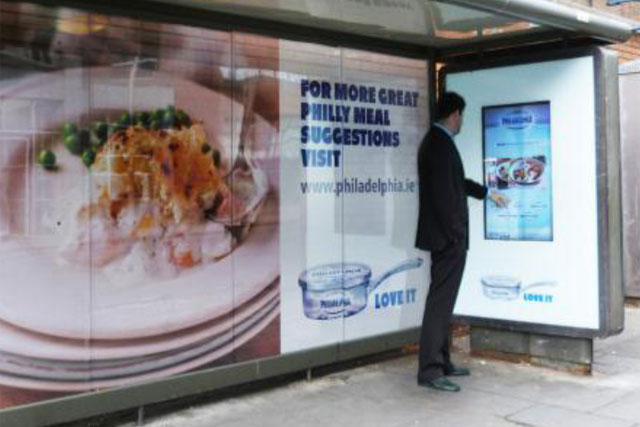 According to a report by PML, the market spend in outdoor media is estimated to be down by about 5% in real terms. However, given the difficult trading period that Q4 became, it is now estimated that the market has probably fallen by nearer 10% overall in 2011.
The top three valued categories of advertisers on OOH formats in Ireland in 2011 were Diageo, Unilever and Heineken.
Diageo are still the number one advertiser on the medium, albeit having reduced in value by almost 20%. Competitors Heineken have fallen back by a similar percentage in 2011.
Unilever are a very close second in terms of display value. HB Ice Cream, Sure deodorant and Persil were their top spending brands on the medium last year.
Kraft/Cadbury have also increased their value significantly in 2011, to almost €5m. The Dairy Milk brand accounted for €1.5m of this total.
Well positioned for growth
Pat Mannion, commercial director of JC Decaux in Ireland, said: "Despite the difficulties of recent years for all of us in the Irish advertising market, I believe the outdoor advertising industry is very well positioned to strengthen our business in 2012.
"The out of home sector has seen massive investment and development in our displays, our research and our support systems. This in turn gives clients unprecedented diversity in quality format choice at a time when our media and production costs are the most competitive they have ever been."

The standout increase in the table is from Sky TV, who has a long term holding of sites that they change message on at regular intervals.
With regard to the categories of advertiser spending on out of home, the traditionally strong categories are still in evidence. But some categories have shown big changes both up and down in terms of display value.
Telecoms is still the top category on OOH, but its display value dropped by 14% in 2011 after a slow end to the year.
However the pre-Christmas telecoms campaigns did not match previous years in terms of size and value. Spend in the Beers & Ciders sector also dropped 21% and Wines & Spirits by 5%, attributed to a combination of regulatory compliance and marketing budget cuts.
On the positive side, ad spend for films was up 20% in 2011 after big spending from Warner Bros and Paramount. On a similar theme, the Entertainment sector (shows, comedy, books, theatre etc) was also up significantly at 28%.
One of the best performing sectors year-on-year has been the confectionery market, with an increase in display value of 28%. Both Nestlé and Kraft Group were active spenders in Ireland on outdoor.
Although a relatively low spending category, the Motor industry also came back into the market in 2011, boosting their display value by almost 30% in 2011.
In contrast to previous campaigns, the general election of 2011 was not a major source of business for the sector, with only Fine Gael running what would be considered a major campaign on OOH.
FMCG brands came to the fore in 2011 in OOH, led by Unilever, Kraft, Nestlé, Kellogg's, Coca Cola and Pepsico all featuring among the top 15 advertisers.
In terms of new outdoor inventory, Metropanels (JCD city centre 6-sheets) have been a major success story since being introduced in 2008.
Their premium locations have made them popular across advertisers. The larger 48-Sheets have also performed better in 2011 than in the previous few years, although still some way behind the peak of the market.
Looking ahead to 2012, the report provides reason for optimism, despite no expectations of a huge bounce in revenue for the sector. Small growth is anticipated frommajor sporting events in Euro 2012 and the London Olympic Games.
| | | | |
| --- | --- | --- | --- |
| Rank | Name | 2011 value (€) | Difference (%) |
| 1 | Diageo | 8,939,232 | -19 |
| 2 | Unilever | 8,908,534 | 24 |
| 3 | Heineken | 7,256,269 | -21 |
| 4 | Eircom Group | 5,772,264 | -31 |
| 5 | Vodafone | 5,717,284 | 3 |
| 6 | Kraft/Cadbury | 4,947,366 | 31 |
| 7 | Coca-Cola | 4,887,464 | 1 |
| 8 | Sky TV | 3,816,649 | 196 |
| 9 | Nestle | 3,803,805 | -12 |
| 10 | Kellogg's | 2,945,651 | -2 |
| 11 | PepsiCo | 3,259,394 | 18 |
| 12 | Warner Bros | 2,916,861 | -1 |
| 13 | Paramount Pictures | 2,906,424 | 58 |
| 14 | UPC | 2,768,273 | -24 |
| 15 | Tesco Ireland | 2,710,810 | 33 |
| | | | |
| Categories | | | |
| 1 | Telecoms | 22,600,949 | -14 |
| 2 | Beers and ciders | 18,596,177 | -21 |
| 3 | Food | 16,155,780 | -3 |
| 4 | Films | 13,538,346 | 20 |
| 5 | Confectionery | 11,411,212 | 28 |
| 6 | Retail outlets | 10,578,492 | -7 |
| 7 | Tourism and travel | 10,532,225 | -5 |
| 8 | Soft drinks | 9,924,683 | -11 |
| 9 | Finance | 9,893,576 | -19 |
| 10 | Media | 9,295,527 | 10 |
| 11 | Health and hygiene | 7,168,337 | -12 |
| 12 | Entertainment | 6,452,875 | 28 |
| 13 | Motor trade | 6,150,663 | 29 |
| 14 | Political and advisory | 5,439,371 | 9 |
| 15 | Wines and spirits | 4,337,274 | -5 |