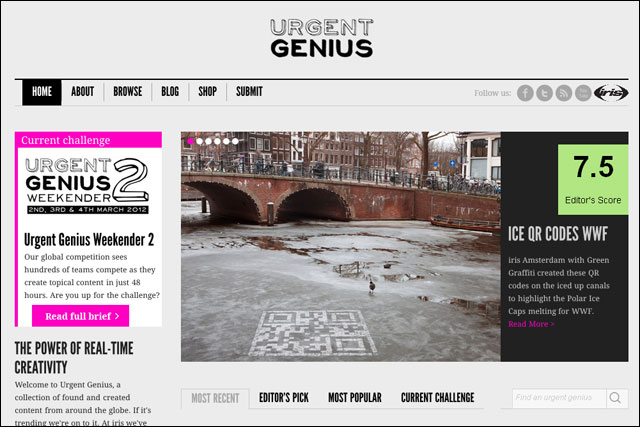 Iris expects 150 teams – more than double the number from last year and including student teams for the first time – to take part in 'newsjacking' trending topics over the course of the festival, competing against established teams from Google, Fallon and Wieden & Kennedy.
The team generating the most online traffic over 48 hours will be declared the winner.
Jon Burkhart, social media creative director at Iris, said: "We're opening up the competition to students this year because these young people totally embody the spirit of Urgent Genius and the notion of 'hybrid creativity'.
"They are actors, comedians, poets, directors, filmmakers and scriptwriters in their spare time – they are creators and curators of content who are able to just think, make and launch. We want to put them in front of the best creative minds in our industry to give them a chance to shine."
Student teams participating include the London College of Communication, Central Saint Martins College of Art and Design, and the School of Communication Arts. Companies include BBH Labs, Made By Many, Crispin Porter Bogusky, Wieden+Kennedy, McCann Erickson, LBi, DDB, Grey, Wired UK, and Google Creative Labs.
Ian Millner, joint global CEO and co-founder of Iris, said: "To be as important to the future of global creativity as we have been to the past, we need to be looking for a completely new breed of creative thinkers.
"Creativity today is cultural. It moves fast, it has lots of levels and layers. To do it successfully needs people with 'hybrid' skills – part creative, part editor, part strategist – but above all, an 'experimental attitude' to their work. Urgent Genius is for this new generation of creative thinker."
Participants can generate any content they like, in any medium.
The competition begins at 6pm tomorrow (2 March) at local time around the world. Iris will brief UK-based teams in their offices today at 6pm, with teams in other countries briefed remotely.
Teams will have until 6pm (local time) on Sunday (4 March) to produce their content.
Content will then be reviewed by a panel of judges, with an initial round of culling where only the best bits of content will go through to the next round. Teams will then have seven days to seed their content.
Entrants must generate the most traffic, in "Likes", shares or views in the seven days following the competition.
The Urgent Genius Power Rule, based on 'The Real-time Power Law' by David Meerman Scott, will be used to calculate influence relative to a team's influence, to give a level playing field.
Sixty teams took part last year. As then , the most creative and successful campaigns will be compiled into a book
Follow the competition at www.urgentgenius.com
Follow Daniel Farey-Jones on Twitter @danfareyjones