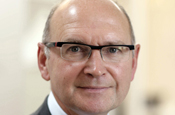 Reporting to the group chief executive and founder, Ian Millner, Bainsfair will lead Iris' European expansion plans.

The network launched offices this month in Paris, Amsterdam and Munich.

Bainsfair, who has more than 30 years' experience in advertising, has been working as a non-executive director at Iris since October last year.

He will continue to act as a non-executive director of the digital agency Lean Mean Fighting Machine.

The appointment of a regional chief executive for North America is also expected in the next few months.

Bainsfair said: "Iris is a truly innovative agency and it is hugely ambitious, which is what excites me most."