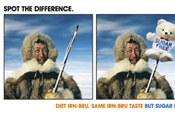 The campaign, which was created by The Leith Agency, depicts two very similar images but with one glaringly obvious difference.

One execution depicts two identical pictures of an Eskimo holding a spear, except that in one image the spear has a teddy bear wearing a t-shirt bearing the words "sugar free" impaled on the end.

Another ad shows two near-identical photos of an old man. In the right image, the words "sugar free" are scrawled across his forehead.

Text surrounding the images asks consumers to "spot the difference" as well as explaining: "Diet Irn-Bru. Same Irn-Bru taste but sugar-free."