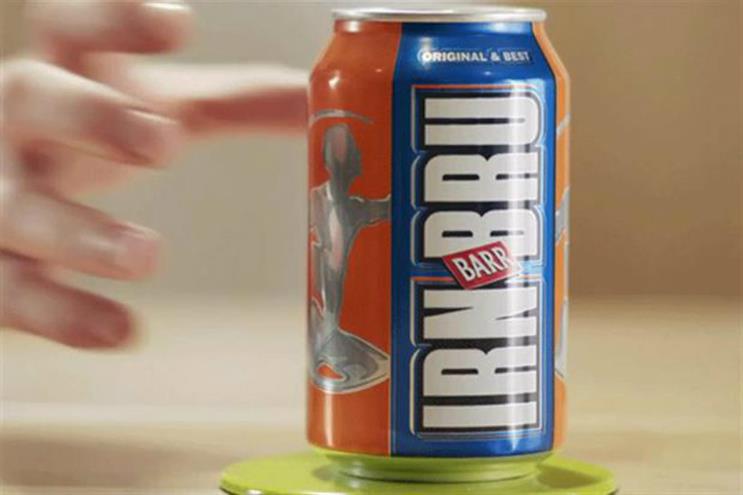 Irn-Bru owner AG Barr irritated but bullish over Gov's sugar tax
Irn-Bru owner AG Barr has said it will change its soft drinks recipes in response to the Government's sugar tax, revealed during chancellor George Osborne's budget, planning for two-thirds of its drinks to be categorised low- or no-sugar within the next two years.
The Scottish company expressed its irritation at Osborne's levy, the announcement of which surprised many in the drinks industry after the Government had previously dawdled over whether such a measure would be introduced.
But AG Barr was stoic, insisting it would adapt and that it expected little financial impact because it would change its recipes. Outlined plans included cutting sugar levels over the coming year to ready itself for the levy's introduction in 2018. It said it had cut calorific content by 8.8% in the last four years.
The soft drinks business said that a loyal customer base for brands including Irn-Bru, Tizer and Rockstar would ensure demand us sustained following the enforced price hike.
Source: The Guardian
Snapchat adds voice and video calling in 2.0 update
Snapchat has added video and voice to its picture and chat service in a significant update dubbed 'Snapchat 2.0', allowing users to swtich with a single tap.
The social platform, which stressed that its goal to be the "best way to communicate" remained unchanged, explained that once a user had started a chat with a friend that they could "start talking or video chatting instantly".
Alternatively, the friend could "simply listen if you want to sing them a song, or watch if you have a new puppy to show them".
Snapchat is also updating its Stories feature, adding Auto-Advance, which means that when users finish a story from a friend (or brand), the next one begins automatically.
The business said that it was also refreshing its terms of service and privacy policy - "making some things clearer, and building foundations for awesome new products to come".
Source: Snapchat
YouTube viewers unfazed by YouTuber sponsorship deals, says study
The majority of young YouTube viewers feel it is 'OK' for YouTubers to have sponsorship deals and include product placement in their videos, according to a study.
Digital network Defy Media conduced a piece of research which concluded that young audiences were largely unbothered by advertising, that they have come to accept sponsorship deals as the price they pay for watching the content of their favourite YouTubers.
The survey, which quizzed 1300 people aged 13-24, found that 87% of respondents thought it was 'always' or 'sometimes' OK to include product placement in videos.
Source: LA Times
Catch up with some of our longer reads...
It's tempting (and useful) for marketers to put people in neat demographic boxes. But, as consumer lives become more fluid, age-agnostic and globally minded, is it time to put a stop to generational generalisations, asks Rebecca Coleman.
At a time when parenting is endlessly interrupted by digital communication and social media, brands must beware of exacerbating the pressure on women, writes Nicola Kemp.
If you watch one video today...
...hear what the public think of the Conservative government spending £5m to promote the new National Living Wage.