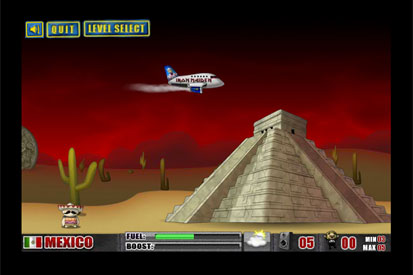 The game mimics Iron Maiden's latest world tour 'Somewhere Back in Time', with singer Bruce Dickinson piloting a plane and flying the band around the world himself.
Gamers fly the Maiden plane through 10 levels set in five of the tour's host countries, Australia, Canada, India, Japan and Mexico, dropping speakers along the way to "get the world rocking" and earn points.
Completing each level earns a stamp on the Iron Maiden passport, while every second level unlocks free trailers for the film.
The game also includes a competition for exclusive Iron Maiden prizes, including embroidered stage gowns featured in the film.
Geoff Smith, digital director at EMI marketing, said: "Advergaming has proved to be a great way to enhance EMI's traditional marketing campaigns. The 'Flight 666' game is designed to entertain Iron Maiden's enormous worldwide audience, and captivate even more players outside the rock market at the same time."
'Iron Maiden: Flight 666' is released on Monday 25th May on EMI Records.