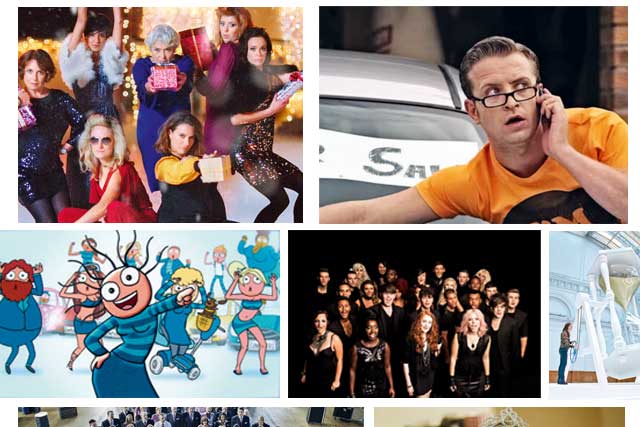 Marketers are irking the public with ads that relentlessly repeat a web address and use catchy jingles to lodge brand names in consumers' memories. This is according to Marketing's annual survey of the campaigns that annoy the public, in which the three most irritating ads of 2011 were for online brands that have used this strategy.
The marketers behind these campaigns are nonetheless adamant that they intend to continue with this hard-sell approach, and argue that such repetition drives sales.
Webuyanycar.com's 'Quick quick' campaign topped the most irritating ads list, with almost half of the 540 respondents selecting it as a source of annoyance from a prompted list of commercials. The ad, with its driving bass line and sonic motif 'any ... any ... any' rankled with the public.
The brand's head of marketing, Paul Coulter, declined to speak to Marketing, but a spokeswoman defends the ad. 'I don't think anyone could forget webuyanycar.com. Our ad using our infamous sonic brand trigger has helped us become the most recognised car buyer in the UK,' she says.
Second place was shared by Jackpotjoy.com, with its campaign starring Barbara Windsor, and Confused.com, ads for which feature an animated character, Cara, dancing to a particularly grating version of the song YMCA.
Some may question whether it is good for a brand's ads to be remembered but not liked. Confused.com marketing director Mike Hoban is unperturbed by the survey's findings, however. 'To quote Oscar Wilde, there is only one thing worse than being talked about, and that is not being talked about,' he says. 'Our research shows that we have an ad in the top 5% of all ads created to date in terms of brand awareness. We are very happy with that. For "irritating", read "memorable".'
Other dotcom TV ads in the top 10 included Moonpig.com, showing people's reactions to a range of personalised greetings cards, and Comparethemarket.com's ad, in which meerkats Alexsandr and Sergei present an air stewardess with a cuddly toy.
It is not only dotcom marketers who are relaxed about creating irritating ads. The Halifax 'Choir' ads featuring the bank's staff singing songs including Hard Day's Night and Walking on Sunshine was fourth in the table. The ads were created by Adam & Eve to replace the previous Halifax campaign, which was fifth in last year's survey - so the latest campaign ranks as even more irksome. Halifax brand strategy director Simon Watts says: 'A good ad has to be strong enough to capture attention and sometimes that can polarise. If an ad is a bit irritating, that is not always a bad thing. We're really pleased our ads build on what has made the Halifax brand great and the response has been very positive.'
Target audiences
Joint-fifth place went to the Phones4U ads showing a 'zombie' girl stalking a woman in a car park, also created by Adam & Eve. Despite 24% of those in our survey finding the ad irritating, the execution has more than 1.2m views on YouTube. Adam & Eve partner James Murphy says: 'You often have instances where people outside the target audiences of an ad or on the fringes are less enamoured. The important thing is that the target audience likes it and gets the message.'
Our survey was carried out in the first week of December, in time to take in last year's crop of Christmas ads. In 10th place was the Marks & Spencer Christmas ad featuring The X Factor finalists singing When You Wish Upon a Star. The campaign has had its share of problems, with one of the contestants being edited out after admitting taking cocaine - not something M&S would wish to be associated with. Some observers argue that it came across more like an ad for the TV talent show than for the retailer.
Marketers recognise the potential of their ads to irritate, yet many seem to believe that if it isn't hurting, it isn't working.
THE REPETITION FACTOR
While several dotcoms are content for their ads to be irritating, some brands go out of their way to avoid annoying audiences. The appeal of even the best-loved campaigns can eventually pall, however. Comparethemarket.com's 'meerkat' campaign is ranked in the top 10 of tedium, to the surprise of the agency that created it, VCCP. Chief executive Adrian Coleman accepts that many ads for price-comparison sites are perceived as riling, but argues that the meerkat ads bring entertainment and creativity to the sector. 'There is no sign of the campaign wearing out,' he insists.
Meanwhile Boots' 'Here Come the Girls' campaign takes joint 13th place. Critics claim the musical signature is tired and out of context in short ads that lack the story of the original. Neil Christie, managing director at agency Wieden & Kennedy, says: 'The sheer repetition factor of campaigns means they just get worn out. There are only so many times you can listen to your favourite song before it gets irritating.'
A spokesperson for Boots said: 'Every campaign has a life cycle, but we know from in-depth research that "Here Come The Girls" has a lot more creative potential.'
WHICH COMMERCIALS IRRITATED YOU MOST IN THE PAST YEAR?
Source: Adwatch fieldwork was conducted from 1-5 December 2011 by TNS as part of its twice-weekly OnLineBus omnibus among 1027 adults aged 16-64. For details of the survey, contact sue.homeyard@tns-ri.co.uk. Researchedads were nominated by Marketing's readers.