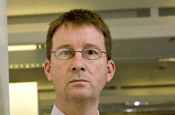 Lord Carter, the one-time JWT boss, now the Minister for Communications, Technology and Broadcasting, told the ISBA conference: We should look at the way the traditional advertising market operates. A lot of people would say that's long overdue.
He criticised what he claimed was the industry's longstanding reluctance to change its ways.
He recalled the time of the proposed 2003 merger between Carlton and Granada when it was suggested that the arcane advertising trading system should be reviewed. At the time, ISBA, the IPA and agencies argued that it might have been arcane but that the system worked.
At the time, Carter added, there were people in the industry who were relieved when the technology boom went bust because they could revert to their existing business models.
We're now in a situation where technology does deliver and will deliver more, he told delegates.
The price of a 30 second TV spot now costs about the same as in 1992, while a full page ad in a national broadsheet is priced at a level that makes everybody weep, he added.
But he went on to point out: On Yahoo and Google you see a very different picture.