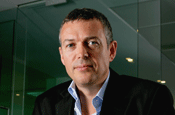 MacLennan, who is also the M&C Saatchi Worldwide chief executive, told the ISBA conference that companies were learning that they could flourish during the recovery period if they sustained marketing spend during tough times.
He claimed that 18 months of downturn had proved that recessions don't happen to economies, they happen to people.
He added: It's easy to cut. It's a not a core skill to rationalise or downsize. You're unlikely to be fired for that – at least not in the short term.
He went on I think that marketing can lead us out of recession. And not just by creating demand because that's quite different. Consumer confidence is about how people feel.
MacLennan suggested the recession was probably halfway through, having spanned two-and-a-half of an expected five quarters of downturn.
We can lead the way out of recession and the time to do that may be now, he said.