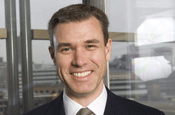 Ed Richards, the Ofcom chief executive, told the ISBA conference: There is no hiding place from the economic challenge.
His comments came within hours of ITV's announcement of a major slump in its financial fortunes.
However, Richards affirmed his confidence in the broadcaster's long-term future – as long as it could make its proposition compelling in a rapidly evolving technological age.
For all the growth of online services it's clear TV remains a central medium in the reaching of very large audiences, he said. It will play a large role alongside subscription and publicly-funded channels.
He added: The power of TV to advertisers and viewers remains and will remain for some years to come.
Richards pledged Ofcom would continue to free up ITV from unnecessary financial burdens, such as regional news programming, allowing it produce programmes appealing to the maximum number of viewers in order for it to sustain its business as a free-to-air network.
He said he had been accused of allowing ITV to salami slice its way out of its obligations. But he declared: We're really at the end of the salami now.