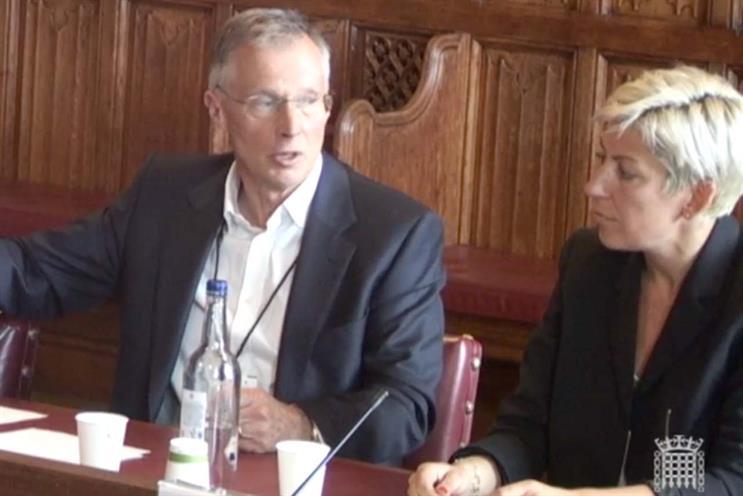 ISBA has warned that broadcasters' online advertising offerings are still in the "foothills" and they need to raise their game to compete with the "mighty" global tech giants.
A lot of advertising on broadcast video-on-demand services is "not targeted" and "quite repetitious" at present, according to Phil Smith, director-general of ISBA, the trade body for Britain's advertisers.
Smith was speaking to a House of Lords communications select committee inquiry into public-service broadcasting in the age of video-on-demand.
Peers focused their questions on whether linear broadcasting was "less attractive" as young viewers turn to YouTube and Facebook, and if there is "a case" for dropping Contract Rights Renewal, the historic legislation that controls pricing on ITV, Britain's biggest commercial broadcaster by ad revenue.
BVOD is becoming more important as young adult viewing fell 25% in the UK last year and is already down 23% this year, Bobi Carley, head of TV and video at ISBA, told the committee.
She added that the rise of subscription video-on-demand from new entrants such as Disney+ is likely to change the market further.
Smith said improving the BVOD advertising experience is crucial.
"Much of it is not targeted. Some of it is quite repetitious," he said. "I won't name names, but I'd say we are at the foothills of the journey, although everyone is clear about the need to use data to a much greater extent to serve up a much more tailored advertising experience.
"The extent to which they are going to be able to do that is very much to be proven. They have some very mighty competition [from the global tech giants] when it comes to the art of personalisation and targeting."
Smith continued: "The ability [of broadcasters] to glean first-party data is going to be, to some extent, 'What's a valid value exchange between the user and the company?' Whereas you can see with the big technology platforms, there are so many pieces of value that they are offering that they are able to amass large amounts of data.
"I think it would be hard to see how the broadcasters can get that same granularity of information."
Smith suggested later in his testimony that advertisers also need to keep a watchful eye on their media agencies, which might have trading deals that "favour" global online media owners over local broadcasters that only operate in one particular market, such as the UK.
"At the same time as multinational clients [have emerged], we've seen a concentration of multinational media buying agencies and many of them will be striking deals with media providers not just on a national basis but on a global basis," he explained.
"I would suggest that if advertisers are not very clear on the commercial basis that exists between themselves and their agencies, there may be instances where agencies have a commercial incentive to favour a global, commercial deal with a big, global company, which is usually a technology company, as opposed to a local broadcaster."
ITV, Channel 4 and Channel 5 all have licences that mean they have obligations to broadcast news and other public-service content in exchange for the most prominent commercial slots on the TV menu on set-top boxes – after BBC One and BBC Two.
Is CRR out of date?
Lord Gordon, a former Scottish political journalist and ex-chair of Scottish Radio Holdings, quizzed ISBA over CRR, asking: "Is there not a case, in reality, for regarding that as out of date now?" He said this is because "the world has changed" with the rise of Google and Facebook.
Smith said CRR has "certainly had a prolonged, active life" since its introduction in 2003, following the Carlton/Granada merger to create ITV, and ISBA is "actively looking" at whether its members think the regulation still has "relevance", but it was "premature" to say more until its review is completed.
Linear TV's mass reach, "social currency" and regulated environment mean it remains "very attractive" to advertisers that want to reach large audiences, Smith pointed out.
Baroness Benjamin, a former children's TV presenter, raised concerns about "the death" of children's programming on much of linear commercial TV.
Carley, a former Disney executive, said it is "disturbing" that so much of children's viewing has moved online, where there is little or no restriction – for example, 30% of their viewing is on YouTube, which is an "unregulated environment", she said.
Baroness McIntosh, a former senior executive in British theatre and opera, said: "The thing that doesn't seem to be mentioned is the fact that so many of the online platforms are not based in the UK and consequently there is an issue about how you regulate them.
"Whatever you want to regulate – whether it's their advertising or any other aspect of their output – there is a question, is there not, about how you extend the regulatory regime to non-UK based companies?"
Smith agreed and expects "more intervention" from government, which announced a white paper to combat so-called "online harms" earlier this month.