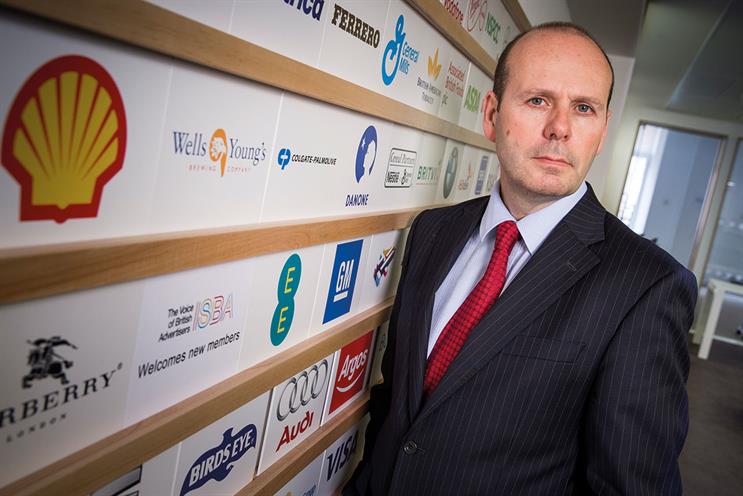 Mark Finney is different from his predecessor. When Bob Wootton became director of media and advertising at ISBA in 1996, he had a Lotus with the personalised numberplate "HI BOBO" and fancied himself as a musician because he was in a band, as Campaign's profile of him noted at the time.
Finney, who took over from Wootton in April, has other passions. He runs marathons (ten at the last count). He has done a spell of volunteering at a food bank near his home (his wife continues to help out). He has been listening to Flaubert's Madame Bovary on audiobook while walking the dog. And he has written a novel about the Second World War, although it sits unpublished in a drawer at home.
"I'm a Yorkshireman," Finney says, when asked to describe himself. "I like to be honest and straight with people and I like people to be the same with me. I don't like politics – the game-playing within companies. It's part of the reason why I haven't been in corporate life for more than a decade."
If he doesn't like corporate politics, working at ISBA, the trade body for 450 advertisers, and leading its relations with agencies and media owners will be tricky. At least he is dressed for the part in a pinstripe suit and red tie.
Lowdown
Age: 52
Family: Married with a daughter, who is a newly qualified teacher, and a son, who is studying medicine
Favourite ad: Guinness "Anticipation" with Joe McKinney (Arks, 1994)
Favourite media: My local Everyman cinema, The Guardian, Apple TV
One thing you don't know about me: I'm the quizmaster at my local pub
He knows the business after the best part of 15 years at media agencies, including MEC and Media Planning Group (now Havas Media). An old colleague recalls him being "terribly nice". He moved client side to Orange and went on to spend the past decade working for independent companies involved in marketing, PR and online ad trading.
Finney has arrived at ISBA at a momentous time because the trade body and its US counterpart, the Association of National Advertisers, are challenging the power of big agency groups. In practically the week he joined, ISBA published a media agency framework contract that suggested agencies should obey tougher conditions and be more transparent with advertisers about rebates (payments by media owners in return for certain levels of spend) and the viewability of online ads.
Controversially, ISBA didn't consult the IPA, which represents agencies. Finney's colleague Debbie Morrison, who oversaw the new contract, inflamed the situation by telling the Financial Times that agencies "don't have clients' best interests at heart any more". Alas, she and other ISBA high-ups didn't make time to talk to Campaign – a curious way to improve dialogue with the ad industry.
However, Finney wants to chat now, hence the invitation to ISBA's Covent Garden office. So has any agency signed up to the media agency framework contract since its launch? Not yet, apparently, although it is only meant to serve as a guide to members.
However, the big picture about clients needing to toughen up their contracts is right, Finney says: "We all know that there are issues. Our members tell us. We're aware as an industry that things could be better. There's a certain sense of murkiness in media that has always been there. But I think it's worse now. A lot of that is to do with developments in digital, the rapid growth in programmatic, the complexity of the programmatic ecosystem."
"There's a sense of murkiness in media that has always been there. But I think it's worse now"
Programmatic, the automated buying of online ads, is "a source of anxiety" and then "there's the suspicion, whether real or imagined by our members, about whether the drive towards it is in their interests or in the interests of their agencies".
The problem, as far as many agencies are concerned, is that ISBA has tarred them all with the same brush. Finney concedes the picture is more nuanced. "It is upsetting for many people in agencies because they feel they are doing their best," he admits. "But is that reflected in the way deals are done at an agency group level? Do they always do things in clients' best interests? Maybe not."
The pushback is that advertisers are partly to blame because procurement departments have slashed margins. True, Finney says, adding "there's a lot more pressure than there used to be" on agencies. But he asks: "Is this downward pressure a licence to undertake practices that are non-transparent? Is it a licence to take money from clients without their knowing?"
ISBA's role is to ensure advertisers are "properly equipped" to have "sensible conversations with agencies". If, hypothetically, a non-cash rebate isn't mentioned in a contract, then "it's not an issue of transparency, it's an issue of non-disclosure", he says. "The point is that this might be in agencies' best interests [to tighten up contracts], even if it might be painful [in the short term]. Those issues aren't going to go away," Finney continues, mentioning the ANA probe. "They're going to become more prominent and more serious."
Relations with agencies are far from the only issue in Finney's inbox. He singles out online ad fraud, viewability and ad-blocking, and making advertisers' voice heard as the industry tackles self-regulation, audience measurement and online privacy. More generally, he wants more focus on the needs of marketers and consumers rather than technology: "One of my manifesto aims is to redress the balance – for our members to remember there's a world apart from digital."
It is too soon to say if Finney's thoughtful candour marks a new era at ISBA. But change looks to be on the way at the not-for-profit organisation, which admitted in its last accounts that membership growth had fallen short and its cash reserves had shrunk.
"I'm quite a positive person," Finney says. "I'm optimistic about the future of digital marketing and think the problems we're facing are normal and natural for an emerging medium." And, he jokes, when he retires, he can go back to his novel.