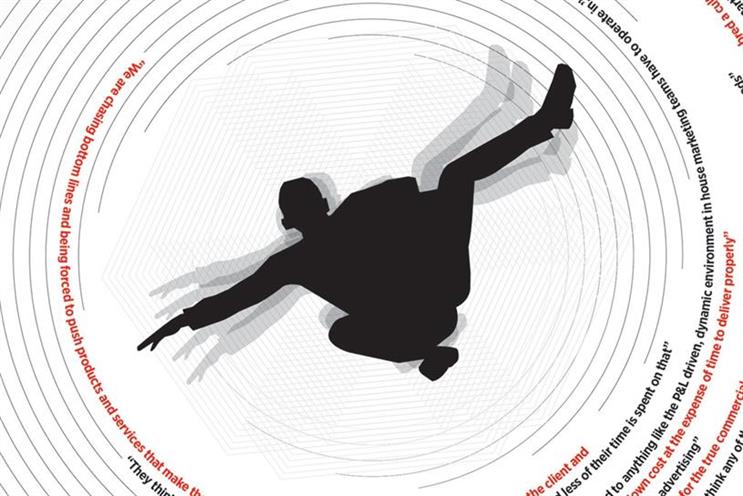 The trade body for advertisers hit out at media agencies today by claiming current contracts undermine trust with clients by leaving out essential detail "especially around digital matters".
ISBA, which represents 450 major brands, believes contracts are lacking in vital details around "click fraud, viewability, verification and brand safety".
Other issues that ISBA wants to address revolve around the rights of brands to choose their own auditors, data ownership, and rebates from media owners not being passed on to clients.
Several industry insiders welcomed ISBA's decision to look at the issue for the first time in a decade, saying the review was long overdue.
But Debbie Morrison, the director of consultancy and best practice at ISBA, angered media agencies when she told the Financial Times: "I don't believe that [the media agencies] have got the best interests of their clients at heart anymore."
ISBA has drawn up and sent out to members a new, proposed media buying and planning services "framework agreement".
One senior media agency chief said such contracts were unnecessary, because major clients employed procurement people to get the best possible deal, including through rebates, and would not want to risk competitive advantage by sharing this information among ISBA members.
The agency boss, who did not want to be named, said: "I don't think ISBA really knows what they are doing. Not all clients are the same. If you are a client with a £5 million spend with Joe Schmo Media and you haven't had 20 years' experience of dealing with media networks, your contract may be weak.
"But the businesses responsible for the vast majority of spend don't want their terms shared. Can you imagine a Unilever or a P&G sharing their terms with other companies?
"What you're going to have is a lot of businesses looking at this and saying 'right on' in public, but they'll go back to their procurement people and tell them to keep schtum about what rebates they're getting.
"No client wants to lose competitive advantage, which is what this comes down to."
Phil Georgiadis, the chairman of Blue 449, said: "It is hard to comment without reading the recommendations. The theme of distrust is unfortunate and not exactly new, but if ISBA are issuing new guidelines to try and foster a healthier relationship between media agencies and advertisers it must be welcomed.
"I look forward to receiving a copy which would, of course, accelerate the transparency of the conversations on all sides! After all a lot has happened in the ten years since the last guidelines were issued and it does seem timely to be reviewing.''
A third media industry figure, who also declined to be named, described Morrison's comments about media agencies as "irresponsible".
ISBA's proposed agreement does not yet appear to have been received by all its own members yet, despite launching earlier this week, and the trade body briefing the FT.
The Post Office chief marketing officer, Pete Markey, believes it is important to open up a dialogue between clients and agencies.
He said: "It is clearly a topic that has been bubbling away and for me if this ISBA intervention gets people talking about it and opening it up and if it creates a better dialogue between agencies and clients then it will be a good thing."
Premier Foods grocery marketing director Helen Warren-Piper, who sits on the ISBA council, added: "It is useful to have guidelines in the area of digital because it is a new and developing area and there is quite a lack of transparency at the moment. It is definitely not designed to chuck a bomb into the middle of the industry and it is up to advertisers whether they want to use it or not."
ISBA has worked with city law firm Fieldfisher to create the new framework agreement, supported by five media consultants.
The consultants are MediaSense, Ebiquity, ID Comms, Firmdecisions, and Financial Progression.
ISBA argues it is necessary for advertisers to have "clear and strong contracts" with media agencies as the media ecosystem gets more complex and opaque by the day.
Morrison said: "Our feedback on the new template terms from major brand owners has been extremely positive as it speaks to all of their major concerns.
"It's been ten years since we last updated our media contract, since that point the market has rapidly evolved and the advertiser community now needs to pay much more attention to protecting and enhancing their rights in this more complex environment. This new framework will give them a great starting point for conversations around the issues and negations with their media agencies."
Graham Brown, the co-founder of MediaSense, said: "I think it's a good initiative. There's all this discussion about transparency because there's too much ambiguity, and when there's ambiguity, there's a lack of trust. If we can reinstate trust, that can only be good for the industry."
Industry observers said ISBA has been slow to tackle transparency issues and its leadership has failed to be as pro-active as its US counterpart, the Association of National Advertisers.
ISBA's decision to speak out now comes just weeks before the ANA is expected to publish a long-awaited report into transparency that has taken at least seven months.