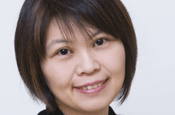 Lin is the founder and former chief executive of Isobar-owned digital agency Wwwins Consulting in Asia.

In her new role, Lin reports to Nigel Morris, the chief executive of Isobar Global, and is part of a team responsible for creating business strategies for Isobar globally. She continues to be based in Shanghai.

Deirdre McGlashan, the former founder of AnalogFolk, will succeed Lin as Wwwins Consulting Greater China chief executive. Before joining AnalogFolk, McGlashan was part of the Isobar Global network for three years, and led Isobar Global in London.

Morris said: The Greater China region is becoming more and more important for all global clients. Jean's experience of building a successful and innovative business in China will be a tremendous asset in helping our clients and Isobar see new opportunities.