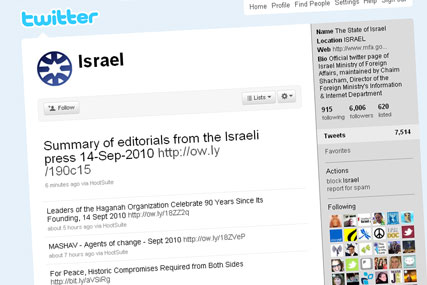 Meléndez has held the account since 2007, but had struggled to make use of it after he was bombarded by anti-Semitic and anti-Israel tweets.
Meléndez told the New York Times that his account was "basically unused", as he was getting dozens of replies each day from people who thought he represented the state of Israel.
The original approach to acquire the account came from the office of the Israeli prime minister, Binyamin Netanyahu, which asked whether it could be bought.
Israel would not confirm what it paid for the account, but Yigal Palmor, a spokesman for the Israeli Foreign Ministry, said: "We thought we could put it to better use than he did."
Meléndez, who lives in Miami, said the sale price was "adequate", but did not put a figure on it. The Spanish newspaper Público said the price included "five zeroes".
The case is interesting as Twitter bans the sale of user accounts, partly to ward off cyber squatters.
Meléndez told Público: "They don't permit the sale of accounts, so what they did was to buy the user. At the end of the day, the result is the same, but you are not doing anything illegal."
The move to take over the account follows efforts by Israel to boost its image abroad following the assault on the Gaza-aid flotilla in May.
Israel has also launched a military channel on YouTube, which it has used to share official footage of the events to counter inaccurate accounts put out by those opposed to Israel.
Other Twitter news today
Twitter to make major announcement – is real-time search launch on the way?