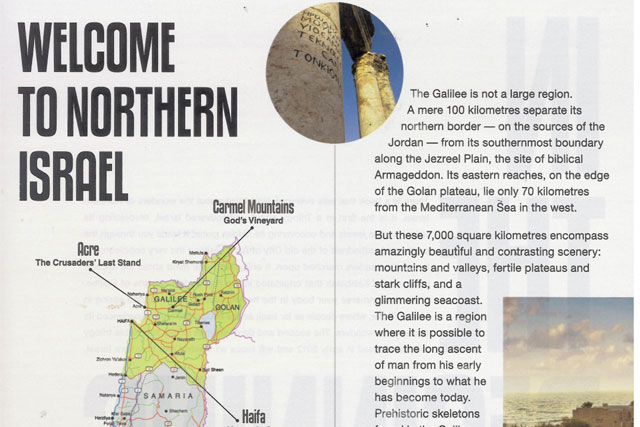 The ad, which also promoted a book about Northern Israel, ran in November and attracted 350 complaints from members of the public and bodies such as 1948 Lest We Forget, Friends of Al Aqsa, and Jews for Justice for Palestinians.
It included a map which showed dotted lines around the Golan Heights area, labelled "Golan", the Gaza Strip, labelled "Gaza", and the West Bank. The northern and southern parts of the West Bank were labelled "Samaria" and "Judea".
The vast majority of complaints challenged that the ad misleadingly implied that the West Bank, the Gaza Strip and the Golan Heights were internationally recognised as part of Israel.
The Israeli Government Tourist Office, which ran the ad, said the map was not intended as a political map and did not include the word "Israel", apart from the heading.
It believed British travellers "would be aware of the varying views as to the status" of the areas and said for that reason, it sought to avoid confusion by distinguishing those areas on the map.
It claimed "a bold, broken, black line" identified the Golan Heights and acknowledged the political controversies in that area.
The ASA noted that the map appeared beneath the heading "Welcome to Northern Israel" and that the context implied all of the areas featured on the map were part of the state of Israel.
It also noted the border lines shown for the Gaza Strip, Golan Heights and the West Bank were faintly produced and difficult to distinguish on the map itself.
It agreed the ad misleadingly implied those territories were part of the state of Israel and ruled the ad should not be shown again in its current form.
According to Souk 360, the map was removed from the ad after it came to light there had been complaints.
The Israeli Government Tourist Office was unavailable for comment.
Follow Daniel Farey-Jones on Twitter @danfareyjones