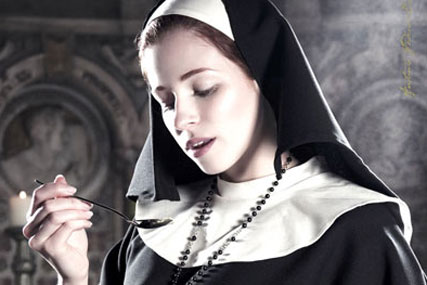 One ad created in-house shows a pregnant nun eating from a pot of Antonio Federici Gelato Italiano under the strapline "Immaculately conceived".
Another ad shows two male priests apparently about to kiss, with the strapline "We believe in salvation".
The print ads appeared in women's weeklies Grazia, Look and The Lady, but were investigated by the advertising watchdog after it received a number of complaints about them.
Antonio Federici said the idea of "conception" represented the development of their ice cream, and its decision to use religious imagery stemmed from its strong feelings towards their product – the text also read "Ice cream is our religion".
The Lady later said it regretted the offence that had been caused to its readers and said it would not publish the ad or anything similar to it in future.
The ASA told Antonio Federici that is was not to repeat the ads in their current form, as it was likely to be seen as distortion and mockery of the beliefs of Roman Catholics.
This is not the first time the brand has landed in hot water for launching an offensive ad campaign. Last year, it was forced to pull an ad by the ASA, after it featured a priest and a nun looking as if they were about to kiss.