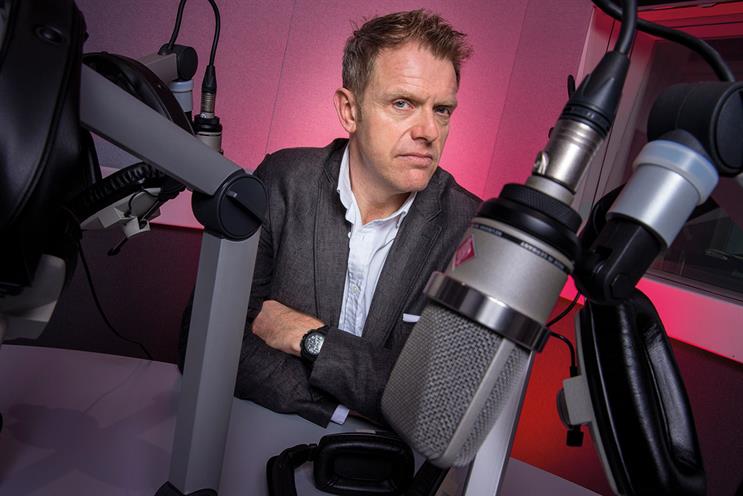 The London office of the newly rebranded Wireless Group is a flurry of activity. Adam Mills, the group sales director of national brands at the broadcaster, which was known as UTV Media until this week, is giving Campaign a guided tour. On the ground floor, a couple of men are working on the studio area that will become Virgin Radio's version of BBC Radio 1's Live Lounge.
By the end of March, this modest building in Southwark will be home to three new national radio stations. Alongside Virgin Radio, there will be a sister station to talkSPORT, called talkSPORT 2, and the return of talkRADIO. There has been a raft of new presenters hired, with Edith Bowman and Paul Ross brought in to host the Virgin Radio and talkRADIO breakfast shows respectively.
TalkSPORT 2 launches on 15 March from the opening day of the Cheltenham Festival. It is a fitting start for a station branching out beyond football. TalkSPORT 2 aims to broadcast live rugby, tennis, golf, NFL, NBA, baseball and boxing. And rather than sticking to the breakfast, mid-morning and drive-time show structure, the station will adjust its schedule to reflect the live action at the time.
"TalkSPORT is for people who love football," Mills explains. "TalkSPORT 2 is for people who love sport who also have a liking for football."
People like himself, in fact. Mills was a county-standard tennis player as a teenager in his native Hertfordshire and admits he is now an armchair rugby fan. The first two confirmed rights deals are with the Aviva Premiership Rugby and the First Utility Super League.
As the ad breaks will be determined by the action, the sales team will aim to sell partnerships to brands associated with the sports on air. The first deal has already been signed – with the Super League car partner Dacia.
The other two new stations are also going to attempt to be different. When Virgin Radio switches on at the end of the month, Bowman will be the only solo woman on a national breakfast show. Mills says the show will not ape the "group of people having a conversation" format, but will be "more of an intelligent approach" with talk about film and photography alongside music.
The talkRADIO publicity has boasted of Ross' "incredible brain" and the fact he won Celebrity Mastermind. If the original Talk Radio, which rebranded to talkSPORT in 2000, was famed for its shock-jock presenters, Mills says the new version will be a much more considered listen. "It's not 'throw a comment in and get a load of people calling in to rant about it'," he says. "It's going to be personality-driven and content-led."
Mills joined UTV in 2013. He cut his teeth at TMD/Carat and Abbott Mead Vickers BBDO in the 90s, before spending a decade at Carlton Screen Advertising and then working at Admedia, which specialised in ad sales for pubs, clubs and motorways.
The idea behind Virgin Radio and talkRADIO is to appeal beyond "white van men". Spot ads will be sold across its network stations but the focus will be on partnerships. Of the 35-strong sales team, Mills estimates around 70 per cent are involved in creative solutions rather than straight airtime sales.
TalkSPORT's prioritisation of sponsorship and promotions is not motivated by a thirst for creativity. Global Radio and Bauer Media dominate commercial radio and agencies spend close to 90 per cent of their budgets with them. With only 5 to 6 per cent of the market, talkSPORT needs to carve out a niche in offering bespoke treatments for advertisers.
The initial brands buying into the new stations – such as talkSPORT 2's betting partner Sky Bet – will have to commit on trust, although if the first Rajars in August suggest numbers have not been achieved, the Wireless Group will make good the difference. Mills is hoping he won't have to. He wants the three stations to deliver an extra 20 per cent on talkSPORT's 3.1 million listeners, which would add up to a combined reach of around 600,000.
Even if the numbers aren't huge, the new stations should help the Wireless Group hold its market share. "Are new stations about taking more money?" Chris Locke, the managing director at Publicis Groupe's VivaKi, asks. "Launches rarely do. But it might allow them to take the same money as last year."
Mills is relatively low-profile but is popular with buyers. "Adam is one of the top sales directors in radio," Dominic Williams, the chief trading officer at Denstu Aegis Network's Amplifi, says. "He is always thinking of how to make radio work for our clients."
Even with Virgin Radio, the Wireless Group is still small. But after completing the sale of its Irish TV business to ITV this week, the group can afford to expand in radio – at a time when its rival, BBC Radio 5 Live, faces budget cuts.
And Mills is betting that more advertisers will tune in to reach his expanded audience.