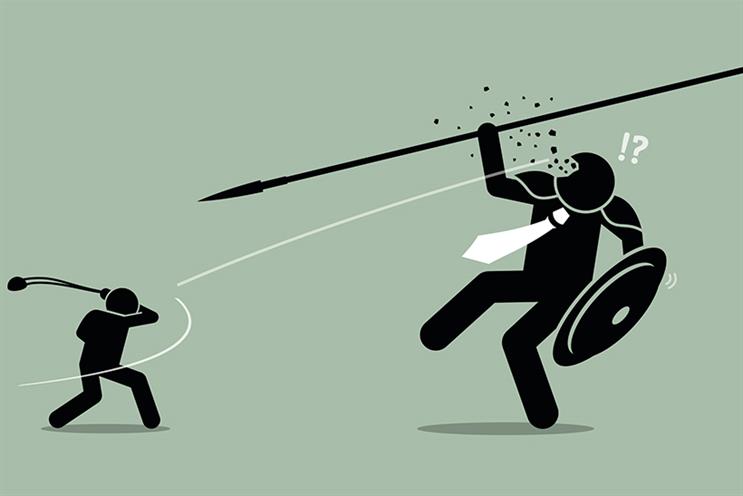 The Upfronts. That glorious time of year where media owners leverage the power of scarcity and throw elaborate parties to seduce big media agencies; and where media agencies go to secure their 'biggest win' of the year. Everyone's a winner right?
Well, everyone except challenger brands, because the upfronts are stacked in favor of agencies and big brands with bigger budgets.
This shouldn't be news to anyone. In fact, it was clearly spelled out in the ANA report about media transparency released last year. Recently, Marc Pritchard gave what I believe is one of the most important marketing speeches for the foreseeable future when he called out the media supply chain as "murky at best, fraudulent at worst."
The sad reality is, despite these two monumental revelations, the winners will continue to be the media agencies and their biggest clients, instead of the full roster of clients they represent.
What's frustrating, however, is that challenger brands have the power to change the dynamic in their favor, but continue to be seduced by the shiny lights of the upfronts and the agencies who guide them towards a false hope.
If it was my money, I would be steering as far away as possible from upfront deals. Here are three reasons why it's time for challenger brands to challenge the upfronts:
The upfronts perpetuate stale thinking.
The first upfront presentation was made by ABC in 1962, and, since then, they've only continued to grow. According to Media Dynamics, nearly $19 billion (up 4.5 percent year-over-year) was committed to TV networks alone in 2016.
There's nothing wrong with growth, but just because upfronts are entering their 55th year doesn't mean they are right.
There was a time when it made sense to leverage combined spend with upfront commitments, because all media plans were essentially the same. TV and radio, some print, and maybe a little outdoor. But we don't live in that world anymore.
Instead, the upfronts perpetuate the same, stale thinking, even if it doesn't get results. They perpetuate the murkiness of the industry, as pointed out by the ANA and Pritchard, and they also create a media world that is too heavily reliant on indexes, ratings and CPMs. The reality is that not all CPMs are created equal; indexes are often based on inferred or claimed data, and the ratings system can't keep up to date with shifting media behaviors (i.e. dual screening).
Worst of all, the upfronts influence media recommendations to clients. Rather than thinking about individual client needs, recommendations are made on what is best for the collective.
I believe in media neutral, channel agnostic ideas, but upfront commitments ultimately lead to recommendations that fulfill these commitments, instead of what is the best recommendation for the business challenge at hand.
The most ironic thing, however, is that even though big upfront commitments are increasingly becoming redundant, they continue to grow.
We now live in a supply side media economy.
What makes these murky deals worse is that they don't even make sense. As digital distribution cements its number one position as the primary screen in people's lives, in terms of time spent, the old supply chain has been broken.
As supply outstrips demand, the power has shifted from the publishers to advertisers.
The first issue this causes, is that as dollars diversify, media publishers are getting hungrier and more willing to make a deal, particularly a short-term deal to sell a finite resource.
Imagine what would happen if all challenger brands decided to pull out of upfront deals? All of a sudden, networks would have to start competing for advertising dollars 365 days a year. More inventory would be available and it would mean the power would shift even further to a supply-side media economy, with the advantage going to advertisers over publishers.
The real issue here, though, is how these new digital channels are bought and the rise of programmatic. eMarketer estimates that by 2018 programmatic buying will make up: 43 percent of mobile, 74 percent of online video and 82 percent of digital display. Added to this is the fact that social and search are nearly 100 percent programmatic, and even TV and outdoor are growing in a programmatic world.
Programmatic is the new media world we live in. It's no longer about who has the biggest budget, but who has the best data, and who wields it better.
Smart beats a bigger stick, every time.
This is the reason challenger brands are ruling the world, because those who outthink the competition, beat the competition. However, it starts with change and challenger brands need to question the upfronts instead of blindly following their agencies into an unfair battleground where their competition has the home advantage and a bigger stick.
The truth is, there are challenger agencies doing this day in and day out for their clients. Challenger brands need challenger agencies, ones that that focus on the economy of a big, channel agnostic idea. Where creative and media not only live together, but also feed each other, and where conversations are free of unhealthy commissions and kickbacks.
So nearly 12 months after the ANA report findings, and as the industry gets blinded by the shiny lights of the upfronts ask yourself—is this how you can best spend your marketing dollars?
—Pip Bingemann is media director of Cutwater.