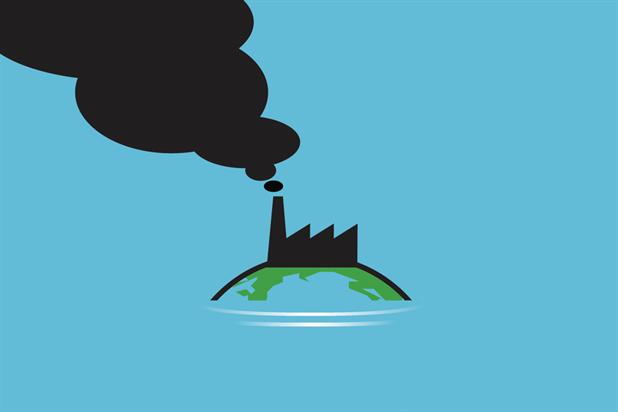 Remember sustainability and corporate social responsibility? These were among the industry's favourite buzzwords at a time when documentaries such as "An Inconvenient Truth" were playing on cinema screens and "greenwashing" was one of the worst marketing crimes.
But when the recession hit in 2008, and people became more concerned with the price of food than its packaging, the green message stalled.
It's a shame that Earth's temperature didn't do the same. According to NASA, 97 percent of scientists now agree that humans are causing global warming.
And yet, worryingly, there is a chasm between the scientific view and what consumers and politicians believe.
A recent Ipsos Mori survey found that many people in the U.S., the U.K. and Australia did not believe climate change was caused by human activity.
There is also a gap between what ad agencies think they should be doing to combat climate change and what they are actually doing.
To coincide with the recent U.N. Climate Summit, D&AD surveyed 21 agencies including Adam & Eve/DDB, Grey London, JWT London, Publicis London and Ogilvy & Mather. It found that 95 percent of agencies did not think the industry is doing enough to help solve climate change, and 81 percent did not believe that sustainability is discussed enough with clients.
In a surprisingly honest appraisal, 43 percent admitted that they were not satisfied with their own agency's action on the issue. But every respondent thought that the ad industry had a significant role to play in solving it.
"This is a human problem, a behavior-change problem," said R/GA executive creative director, George Priest. "Our industry at its best tackles and overcomes those."
It is a statement with which most would agree. But it is considerably harder to act on it, particularly if it means turning down business or putting a client relationship at peril.
Poke founder and ex­ec­utive creative director Nic Roope argued that "as an in­dustry, we are in the service of commerce and, as such, we're subject to the whims of client business. We can choose whether to work on projects that are clearly counter to environmental interests, as many have turned away from big tobacco. But they'll still find agencies to do those projects, so the net result is neutral."
He added: "There have been so many sham green projects, I think agencies and clients are caught in a kind of stasis because you're damned if you do and damned if you don't. It's time we moved on and got some genuine agendas on track and moving forward."
So which direction is forward? There were conflicting views in the research — some agencies said they should lead the conversations with clients, others thought it should be a joint effort.
"Agencies are not the go-to people for the clients that are working on these issues," said Ben Gallagher, a former client at Nike Foundation who now runs his own shop, Ben & Andrew. "We do not have a proven record of demonstrating success in this area, so we are not necessarily the people to call."
Also, to be able to really effect change, an agency needs access to all parts of a client's business, not just the marketing departments.
"There is an element of inherent obsolescence into many of the products we advertise," said Simon Learman, Adam & Eve/DDB's in­ternational creative director. "While we can certainly help to connect manufacturers and consumers more effectively, a desire to affect climate change has to be baked into the manufacturing process."
However, D&AD's chief executive, Tim Lindsay, said that this need for every part of a client's business to be engaged with the issue offers a great opportunity for agencies to graduate from running comms campaigns to or­chestrating broader business transformation for clients.
And, more important than the bottom line, agencies have the ability to change the global narrative on climate change and close the gap between scientists and consumers. This time, it really could be a matter of life or death.
A plea to agencies
John Sauven, executive director, Greenpeace
Advertisers know what makes people tick, often better than people do themselves — and that's what makes advertising so useful, and so dangerous. A good advertiser can sell the public a product that pollutes their world, undermining their future and the future of all life. But it also means they can help sell products and ideas that protect our world. We know they can, because we work with agencies and draw much of our impact from their skills and expertise.
In idealistic moments, it's easy to imagine and perhaps covet a world where advertising didn't exist. Where people made their mind up about what they wanted from a rational analysis of the known facts. But we don't have time to wait for that world to appear.
The battle to save the climate and everything that depends on it is a battle of desire and persuasion. We have to overcome a century of people being conditioned to ignore tomorrow, ignore the world around them, and just focus on buying more regardless of the consequences. We need to make them feel that not only is another world possible, but they want it enough to make it happen in the face of opposition from the biggest companies in the world, which will still have the ear of our governments. And the biggest advertising budgets!
How are we going to win this battle? Stop trying to think of excuses to work with the bad guys — you know who they are — and start thinking about how to make money with the good guys. You're the experts.
Should agencies be leading the climate-change conversation with clients?
Tim Lindsay, chief executive, D&AD
Of course they should. As business wakes up to the commercial advantages of "doing well by doing good," as corporate social responsibility moves from a box-ticking exercise to front-and-center stage, and as Millennials who care about this stuff take over the asylum, there's a real opportunity for advertising folk to get back upstream into the CEO's office — a place we seem to have vacated in the past couple of decades. We are, after all, experts in changing behavior. And, if the planet is going to sustain us for much longer, behavior change is what's required.

Is it happening? No, not really. During D&AD judging this year, we took the opportunity to ask senior creative people where the sustainability conversation had got to in their companies. The answer was, pretty much, "What sustainability conversation?"

It's understandable. Agencies are under the cosh financially and short on resource. Certainly, they're lacking the "R&D" budgets and the luxury of taking initiatives. So it is understandable, but pretty sad, too.

In fact, it's more than sad — it's damaging to our business. I read a study this week that showed more than half of those aforementioned Millennials believe that brands should be a force for good and that they are much happier engaging with companies that are doing the right thing. They also want more purpose in their own professional lives and will look to work elsewhere if that isn't delivered. The commercial and sustainability agendas are beginning to intersect.

It's also a fact that clients will start to look elsewhere for the advice they need. I recently heard a senior marketing director lament the fact that her agency kept trying to sell her stuff that was last fit for purpose in 1995. Other senior marketers are having their heads turned by the start-up and tech communities. It's in danger of turning into a lost opportunity.

What do we do? It's clear we want to do good, so let's find a way in which we can make it happen. Invent the language, tools, capabilities, processes and metrics we need, put our own houses in order, hire experts to disseminate their knowledge and adopt a youth policy. They really do care about this stuff, so give them the ball and let them run with it.

Clients and brands need us and our expertise badly. But, not for the first time, we haven't really heeded the call. There's a huge opportunity here waiting to be grabbed. Now's the time to join in.
This article was first published on campaignlive.co.uk