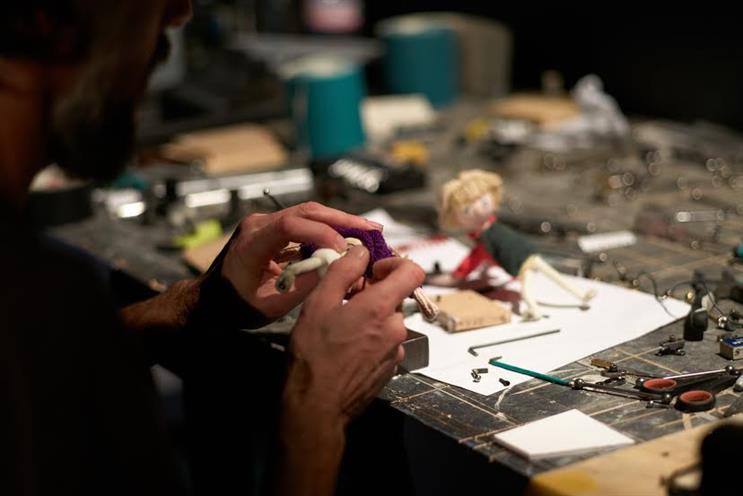 Amazon Prime, British Gas, BT, DFS, Dreams and Nationwide are the six brands that have agreed to have their existing ads "recreated" by ITV's in-house agency, ITV Creative.
The spots feature knitted characters because this year's Text Santa shows, which airs on 18 December, has a Christmas jumper theme.
ITV Creative's team has used stop-motion animation, model-making and textile designers to bring the knitted ads to life, with knitted ITV-branded promotional spots at the start and end of the break which will air some time between 9pm and 10pm.
Kelly Williams, the managing director of ITV Commercial, said: "The commercial team put our heads together to think what could we really do to raise the awareness of Text Santa."
ITV is charging brands the "normal" rate to appear in the break, although they will also contribute an additional fixed cost to pay for the creative and the knitted characters.
Kim Gilroy, ITV's account sales manager, said the broadcaster worked with brands whose ads already had a certain reach and frequency, so that they were easily recognisable in knitted form.
But, she added, it was not easy to find ads that worked: "ITV Creative had to look at the ad and be confident that the ad could be created in knitted form. You can't do water with wool. You can't do fireworks or explosions. Lots of scene changes are very costly too.
"There were lots of advertisers that wanted to be in the break and couldn't be either because another category [a rival brand in the same sector] had already signed up or it was too difficult."
ITV said it has taken its "inspiration" from the acclaimed The Lego Movie ad break, conceived by media agency PHD, when all the ads were recreated with Lego characters.
"It's absolutely a homage to The Lego Movie ad break," said Williams, whose team initially approached brands which took part in The Lego Movie ad break to see if they wanted to take part in the knitted one.
Despite the success of the Lego Movie break, no other brand has attempted its own version, and Williams admitted that few were likely to try. "I think the Lego ad break was a one-off," he said.
Gilroy added: "These ideas don't come up very often. You can't force them. If it's contextually strong and relevant, it writes itself."
Text Santa is ITV's annual fundraising appeal that supports families in difficulty and with health problems in the UK and overseas.
This year, the appeal has teamed up with Macmillan Cancer Support, Make-A-Wish UK and Save the Children, with the theme "do your bit in a Christmas knit".
The knitted ad break will be available on YouTube after transmission and ITV hopes to drive social media activity with the hashtag #knittedadbreak.
Tobias Fouracre is the director, Janet Smith is the producer, and the model makers are Mackinnon and Saunders on the ITV Creative project.