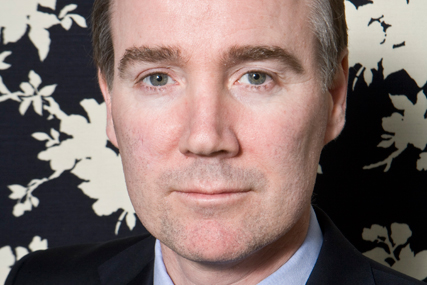 The Royal Mail Group chief executive will take up the role later this year, with interim chief executive John Cresswell remaining in place until Crozier takes over.
Crozier was the "unanimous choice" of the non-executive directors at ITV following a "very full and thorough search process", said ITV chairman Archie Norman.'

On a conference call, Norman referred to Crozier as a "quiet", "strong" man who is "not egocentric" and possesses "a steely resolve".

"We need it at ITV," Crozier opined, calling the broadcaster "Britain's most highly regulated company".
The media company has been looking for a chief executive since executive chairman Michael Grade announced he was stepping down from his chief executive duties, and subsequently his chairman's role, in April last year.
Speculation has since been rife as to who would replace Grade as the full time chief executive. Tony Ball had been in line to replace Grade but talks broke down over Ball's remuneration demands.
Sir Michael Bishop also ruled himself out as a possible replacement for Grade as chairman. Bishop, a former chairman of Channel 4, was the second favoured candidate to drop his interest in becoming ITV chairman after Sir Crispin Davies, the former chief executive of Reed Elsevier, declined the role in October.
However, Norman today insisted Crozier had been his "number one choice" since talks began with him shortly after the chairman's arrival in December. "Everyone here, including Rupert [Howell] is extremely supportive," he said.
ITV's chairman said he hoped today's appointment ends what he described as "a pretty torrid period for the executive team" in the last year, and said the foundations for his arrival is already in place with a strategy review of the company underway.
The broadcaster now has two former ad men in key positions at the broadcaster. Howell, ITV's managing director of brand and commercial, who also put himself in the running to replace Grade, is a former ad man, having started his career with Ogilvy and co-founded HHCL.
Crozier has enjoyed a varied career, including stints at The Daily Telegraph and Saatchi and Saatchi.
As a schoolboy he had trials for Hibernian FC, worked at Pedigree Petfoods as a graduate trainee and subsequently joined The Daily Telegraph in 1986.
Crozier joined Saatchi and Saatchi in 1988 and was appointed joint chief executive, with Tamara Ingram, in 1995.
From 2000-2002, he was chief executive of the Football Association, famously appointing Sven Goran Eriksson. Crozier left the FA to join The Royal Mail, where he has consistently battled with unions over modernisation plans.
Crozier is also on the board of Camelot and Debenhams.