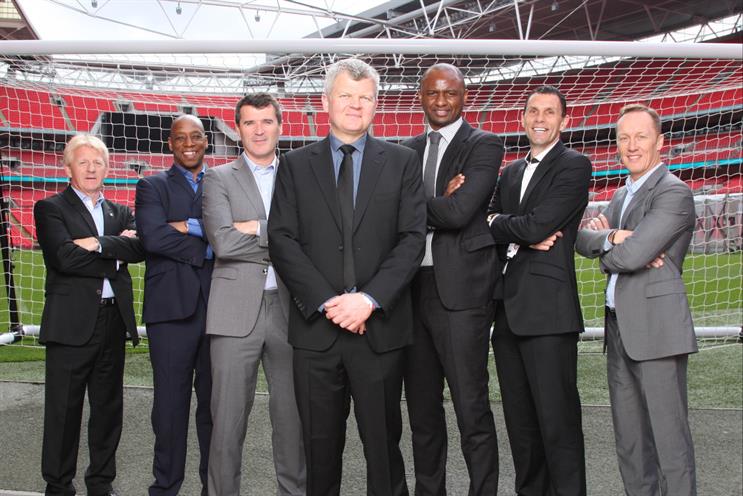 According to unofficial overnight figures, the number of viewers peaked at 9.45pm last night, just as England's crushing 2-1 defeat to the South American side was reaching its crescendo.

An average audience of 13.1 million, a 55 per cent share, tuned in to ITV's live coverage of the game between 7pm and 10.30pm.

Liverpool FC's controversial striker, Luis Suarez, made it a torrid night to forget for Roy Hodgson's England team, when he scored two half-chances in Sao Paulo.

England now face an early World Cup exit unless the remaining group games happen to play out favourably for them.

If Costa Rica and Italy draw this afternoon, or the Central Americans beat the Italy team, England will be eliminated with one match to spare.

It would make England's final game against Costa Rica, also due to be broadcast on ITV on 24 June, an expensive live dead duck for both the broadcaster and its commercial partners Sony, Carling and Santander.

There is a slight chance that if Italy win both their remaining games, Uruguay, Costa Rica and England will be tied for second spot, provided that Hodgson's men win their final match.

In what will be chalked down as another missed opportunity for English football, the appetite for footballing success in the country is clearly apparent in the record viewing figures.

Last night's peak audience was higher than the 17.29 million who watched tennis star Andy Murray on the BBC as he won Wimbledon last year.

It was also significantly larger than all the finals of ITV and BBC talent shows, 'Britain's Got Talent', 'The X Factor' and' Strictly Come Dancing'.

Indeed, the frustrating game even commanded more than the 20 million who tuned in to watch Usain Bolt's 9.63 second victory in the 100 metres final during the London 2012 Olympics.

You have to go back to the London 2012 audience highs of the opening and closing ceremonies for a more shared national live event, which attracted peak audiences of 27 million and 26 million respectively.

In further bad news for the commercial broadcaster, in what is being reported in some media as "the curse of ITV", it transpires England have won only a third of World Cup games shown on ITV since 1982.

By contrast, England teams have won 57 per cent of matches shown on the BBC – with just seven losses and three draws in 23 games since 1982.