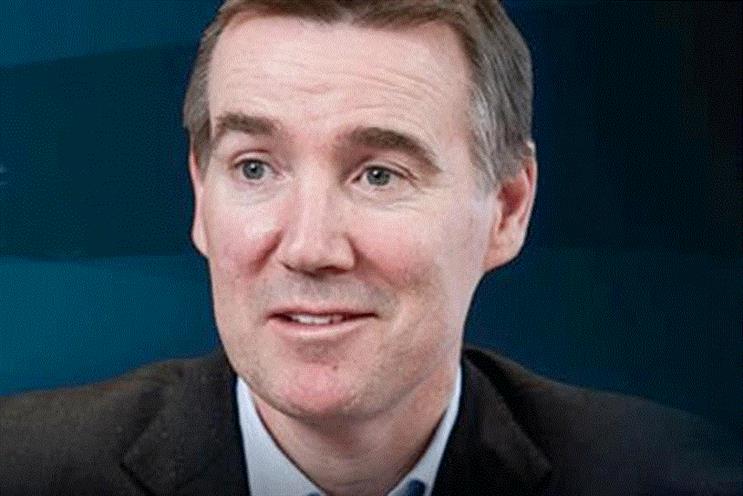 Adam Crozier, the chief executive of Britain's biggest broadcaster by ad revenues, said the impact has been on short-term "late money", rather than advertisers ripping up long-term plans.
But he insisted the "fundamentals" of TV advertising remained strong and brands were starting to "question" the value of digital ads because "a four-second ad that pops up on your screen that you're likely to skip after four seconds" is different from "a 30-second TV ad".
Speaking to Campaign after ITV's annual general meeting on 12 May, Crozier explained: "You could almost see the day that the Brexit vote was announced [on 20 February], the impact was on the late money. It wasn't on the stuff that advertisers laid down [in advance] in line with their plans.
"In any given month, there's an amount of late advertising money – it's often where they're looking for value. Because of the uncertainty through Brexit, that's the bit of money that disappeared. That would be the same for Channel 4 and Sky. All of us experienced the same thing."
ITV reported its ad revenues fell a worse-than-expected 13% in April and will be flat in May against weak comparisons. However, June looks stronger, with ITV expecting a 15% rise because of the Euro 2016 football tournament. The first half of the year is forecast to be flat.
Some TV chiefs and City analysts have suggested that ad money could rush back into the market immediately after the 23 June vote if Britain remains in the European Union, but Crozier was guarded about the likely impact, saying he was "not sure about the day after".
He went on: "There's no question that the uncertainty has caused people to press the pause button. What happens when they take their finger off the pause button, who knows?"
ITV is seen as a bellwether for the ad market and several other media owners have said privately they are also suffering. The company has not said whether it opposes Brexit because it is a news provider and wants to remain impartial.
Crozier insisted the rise of YouTube, Netflix and other online and streaming services was not contributing to the ad slowdown on free-to-air TV.
"If you look at it, it's not the fundamentals – despite all the doomsayers. Never mind our share of viewing [on ITV] being up. Generally, the volume of viewing is up. These are the straight Barb numbers – that's not just ITV.
"The market's healthy. There's nothing structural. It is just purely there are some [political] issues that are around that are slightly out of everyone's control. You can see it in Germany, the ad market's firing. You go to America, the ad market's fine. There's nothing wrong per se with TV advertising."
British TV advertising had a strong year in 2015, with revenues up nearly 7%, and Crozier claimed brands began taking a more sceptical approach to digital advertising from the second half of last year.
He said: "Martin Sorrell, the champion of digital advertising, suddenly came out and questioned it. A number of bigger advertisers in America started to question it. People like Diageo, here, started to say, 'The problem with being online is we've lost impact, we've lost that fame,' which is what really drives advertising.
"I think there's been a shift since last summer where people started to take a more mature view of it. The idea that you can compare an [online] ad that pops up on your screen that you're likely to skip after four seconds with a 30-second TV ad is, if you stop to think about it, clearly not very sensible. It's people starting to realise they [TV and online] do different things."
Crozier said online had reached such a scale that it made sense to ask more questions.
"It's just a maturity thing. When all the digital advertising started, it was very sexy, very trendy. People were prepared to put budgets into it and give it a try.
"When it gets to a certain level of maturity, it's the same thing as what happened to press and TV and magazines. The procurement people get involved, the accountants get involved.
"People start to want to know, 'Hang on, what did I actually get for my money? Did it work? Did these people actually see the ad?' What kind of impact has it had?' Effectively, people are starting to question digital advertising."
Asked about YouTube's recent research that claimed the Google-owned site was more effective at delivering results than TV, Crozier said: "I'm not sure I see that."
YouTube "will still do very well" and is "a formidable competitor", he said, but there is now "a more sensible debate" among advertisers about the merits of TV and online.