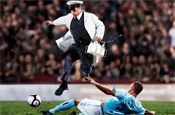 This season has already seen non-league Histon beating Leeds United while last season the mighty Barnsley knocked out both Liverpool and Chelsea on their way to the semi final.

To celebrate this, and its coverage of the event, ITV is putting out a set of posters with the line "All men are equal".

They show scenes from football matches where one player has been replaced by a "normal" man, such as a milkman, a fireman and a welder.