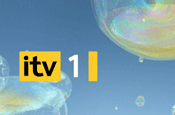 The relegation was made official this afternoon after the market closed, as part of the latest FTSE 100 quarterly reshuffle.

British Sky Broadcasting is now the only broadcaster in the FTSE 100 index.

ITV's share price rallied this morning amid renewed bid speculation from potential suitors including Endemol and Mediaset.

However, the new FTSE 100 rankings, although ratified tonight, were based on yesterday's share prices.

ITV was valued at £5.3 billion when it was first formed. Today, the company's shares are worth £1.77 billion.

Last month, ITV announced pre-tax profits in the six months to the end of July down 28 per cent year on year to £91 million.

It also warned that it expected TV ad revenues in September to be down 20 per cent on the same period last year.

A review released this week by accountants BDO Stoy Hayward shows that, following ITV's relegation, only 5 per cent of the FTSE 100 are media companies, the lowest level for more than 10 years.