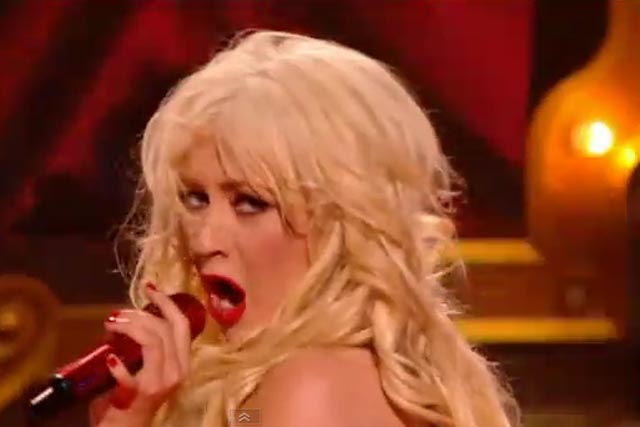 The media regulator investigated performances by Aguilera and singer Rhianna during the final of the singing talent competition, after receiving more than 2,800 complaints.
Pictures of Aguilera's performance, which had a burlesque theme to coincide with the imminent release of her film 'Burlesque', were reprinted by the Daily Mail three days later in a story that branded the performance "disgusting".
Although the "overtly sexual nature of the burlesque-style routine" was, in Ofcom's view, capable of causing offence to some viewers, the regulator said that on balance, the performance was not in breach of the Broadcasting Code.
However, it called on broadcasters to recognise the potential for causing offence in programmes that attract family audiences. It is to issue new guidelines and will call broadcasters who transmit such programming to attend a meeting at Ofcom.

Ofcom cleared Rhianna's performance as she and her dancers were "adequately dressed with clothing covering their buttocks" and, although there was some "gentle thrusting", it was in keeping with her performing style and suitably limited.
The majority of the complaints to Ofcom were made after photographs from the programme were published in the Daily Mail – 800 were made between the broadcast on 11 December and the publication of the pictures on 14 December.
In its decision today (20 April), Ofcom noted that the photographs published by the Mail were more graphic and close up than the material that had been broadcast, and had been taken from a different angle to the television cameras.
A spokesman for Ofcom said: "It is important to see these sexualised elements of the Christina Aguilera routine in context. Focusing on the stage costumes and dance routines in isolation, particularly when these were presented within the context of a musical performance, may risk exaggerating their significance to viewers."
In January, a separate Ofcom investigation found 'The X Factor' was in breach of the broadcasting code last year for promoting the singles by guest artists, Michael Bublé and Diana Vickers, and using strobe lights during a Cheryl Cole performance.