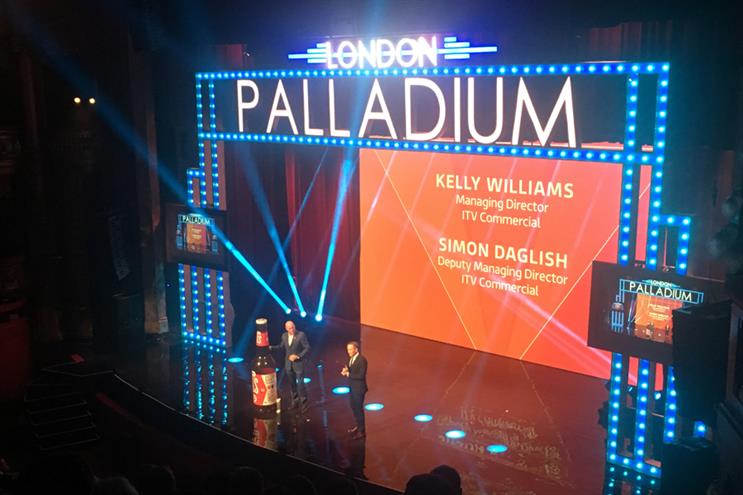 The annual ITV Gala at the London Palladium is a chance for Britain's biggest commercial broadcaster to showcase its forthcoming shows for advertisers and agencies as they look ahead to 2018.
ITV certainly proved it has star power. British on-screen talent were out in greater numbers than ever at this feelgood event, now in its third year at the West End theatre and attended by close to 1,000 people.
Simon Cowell, Jonathan Ross, Piers Morgan, Philip Schofield, Holly Willoughby, Lorraine Kelly, Jennifer Hudson from The Voice, the cast of Love Island, the hosts of Loose Women and assorted soap stars from Coronation Street and Emmerdale were all in attendance.
ITV also made a compelling case on-stage that TV delivers for advertisers big and small as the commercial chiefs, Kelly Williams and Simon Daglish, used a giant beer bottle and a video of TV celebs Stacey Solomon and Joe Swash in a bath to make their points (of which more later).
"Kelly and Dags" announced a new, addressable advertising offering with US firm Sorenson Media that will allow targeting of viewers on smart TVs – an innovation that could offer some basic competition to Sky AdSmart.
But the forthcoming programming slate, which is the third and most important reason why ITV hosts this annual event for marketers and agencies, didn't have the same sparkle as the glammed-up stars on the red carpet or the commercial pitch.
The most exciting, new programme was a series about "two nonagenarians", as Kevin Lygo, the director of television, put it, as he showed an enchanting clip from a documentary about The Queen and David Attenborough and her support for a "Commonwealth Canopy", a project to preserve forests in 52 Commonwealth countries.
Lygo showed a handful of new dramas: An adaptation of Vanity Fair, a high-end co-production with Amazon, with Olivia Cooke playing Becky Sharp, looked promising.
There were also a trio of modern-day shows: Hatton Garden, a four-parter about the 2015 jewellery heist, starring Timothy Spall; Next of Kin, a six-episode modern-day thriller set in the UK and Asia, featuring Jack Davenport and Archie Panjabi; and Trauma, a dark story of vengeance over a child's death, starring Adrian Lester.
Then there was the football World Cup from Russia that should deliver audiences of five million to ten million, or close to 20 million if England do well next summer. That compares to Champions League matches that pull in 200,000 – a little dig at BT Sport.
But that was about it. Most of the rest of the programming presentation was about existing, dependable shows: X Factor, Britain's Got Talent, Coronation Street, Emmerdale, The Voice and a revamped Dancing On Ice.
Plus, there was a lot about Love Island, which did smash audience ratings this summer and made ITV 2 the most-watched channel for 18-34s – leaving aside that one hit show doesn't make an entire channel.
There was still a fun atmosphere inside the Palladium and a few decent gags from Ross, who did a mini-version of his Saturday night chat show with various stars on-stage – "a slightly abridged version with a heavy-handed corporate message," he joked.
But it didn't set pulses racing like the two previous Galas. One media agency boss said: "I'm a bit desperate for new content." Another agency leader described the programming line-up as "mixed". A third industry person said it had "too much tabloidy stuff".
Or, to use the catchphrase of the night from Love Island, it looked "a little bit leave it".
Lygo is said to have decided to prune back his presentation at the last minute and there is a theory that ITV's top team might be holding something back for Dame Carolyn McCall, the incoming chief executive, who starts in January.
McCall was watching in the audience and got a cheer when she was name-checked.
The joke within ITV was that this was a giant, live job interview for the company's most senior executives and talent to pitch to her.
Cowell used his opportunity on-stage to extol the virtues of ITV and mention in passing that the contract for The X Factor and BGT will soon be up for renewal.
The best part of the presentation came last as Williams and Daglish promised innovation and landed several key messages about the effectiveness of TV.
On the innovation front, ITV's partnership with Sorenson Media offers a linear, live ad replacement service that works with Samsung smart TVs.
The video of Solomons and Swash was a fun way to explain the addressable advertising solution in everyday language.
ITV also acknowledged that it has been watching how Facebook has grown and needs do a better job of appealing to smaller advertisers and it is launching a self-serve platform for its online video service, ITV Hub.
That move didn't go down so well with some agencies who don't like the idea that they might be bypassed.
The message on effectiveness was what really hit home. The argument over brand safety and fraud-free traffic has been largely won after a bad year for the tech giants, so ITV focused on how TV has the power to drive fame and sales like no other medium.
First, Williams and Daglish used the giant, two-metre-tall beer bottle from Camden Hells Lager and compared it with a normal bottle to illustrate how much sales have grown since the independent brewer began advertising on TV – thanks in part to a deal involving creative guru Sir John Hegarty, who was in the audience.
Then, they showed a clip from the BBC's Dragon's Den about how an entrepreneur doubled sales of his invention, a patio door lock, by advertising on TV – a £25,000 investment in TV led to £125,000 in sales.
Daglish made the point that when an advertiser uses TV and, in particular, ITV, to build its brand, "we make it big."
For some, TV's brand-building power has never been in doubt. "People go, 'That's surprising,' but it always has [had that effect]," Hegarty said afterwards, reflecting on the enduring power of TV.
The TV market itself is looking up a bit after a tough 12 months in the wake of Brexit.
Media buyers say November could be up 4% and December maybe 1%, which could leave the year down only 2%. Next year could be roughly flat, which would not be bad.
But for TV to work in an age of data-rich, addressable advertising, it needs great programming. Plenty of food for thought for McCall.
Gideon Spanier is head of media at Campaign