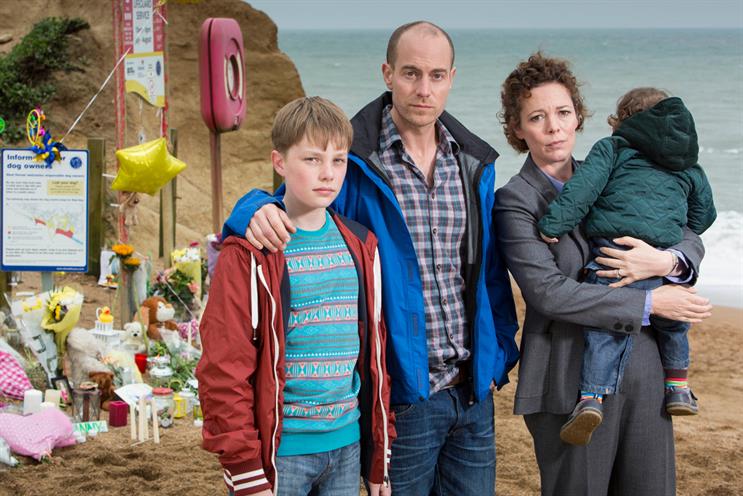 Broadchurch, as an all-round media phenomenon, reminds us that, at its best, television can resonate right across the nation. One person clearly revelling in the numbers is Fru Hazlitt, ITV's managing director of commercial, online and interactive.
The final episode of Broadchurch drew an average audience of 8.6 million viewers (a 33 per cent share of viewing) and hit a peak of 9.3 million. The consolidated data (including time-shifted viewing) suggests that the show averaged 9.2 million viewers across its eight-part run, meaning it is on track to be ITV's highest-rating new weekday drama series since 2004.
Hazlitt told Campaign: "This is millions of engaged eyeballs, week in, week out. A mass audience, utterly glued to their sets, watching quality content in real time – this is a unique and unmissable opportunity for advertisers."
The show's success is a reminder that event TV viewing is alive and well, and engaged viewers have then propelled the message through social channels. Hazlitt notes how the volume of Tweets grew throughout the series, with 47,000 recorded for the penultimate episode, rising to a massive 260,000 in the last episode – making it "the most Tweeted-about drama episode".
According to commercial TV's trade body, Thinkbox, linear TV viewing in the UK, whether live or recorded on a PVR and played back within seven days, has been breaking records in recent years. Barb figures for 2012 reveal that the average viewer watched four hours and one minute of linear TV a day. It was the third consecutive year that this has been above the four-hour mark.
And yet Broadchurch's success took some London agencies by surprise. As one media planner put it: "It sneaked in under the radar where Soho's chattering classes were concerned. It's always good for media agencies to be reminded that there's a bigger world out there."
That's perhaps because this was an "old-fashioned" success. Old-fashioned in the sense that it was big-budget scripted TV, a phenomenon that, according to new-media theorists, should be well past its sell-by date by now.
"A programme like Broadchurch reminds us all that great TV still exists and can still generate mass conversation," Ruth Cartwright, the broadcast director at Maxus, says. "We need programmes like these to keep clients and viewers alike interested and engaged with a channel's content. It is an opportunity to deliver great campaigns."
Yet, as always, there's a slightly more sceptical take on all of this. "Everyone's raving about Broadchurch," one strategist says. "But how often does it happen, really? Once a year? The Olympics were great for TV as a medium. As were things like the Jubilee. But then what do you have? Downton Abbey? The X Factor? Britain's Got Talent? It's just not that regular an occurrence."
David Wilding, the head of planning at PHD, also points out that it's possible to find tie-ins with talent shows and the personalities they throw up. It's difficult for advertisers to align themselves with successful drama shows in comparable ways.
But he also concedes that it's worth being reminded now and again that it doesn't always pay to listen to fashionable theory.
He adds: "Ten years ago, people were predicting the death of live TV – and everything was going to be on-demand. We've learned that live can coexist with on-demand. That's a good thing – though it will continue to bring challenges too. So that's probably the thing we've learned most here – that there's still a place for brilliant TV scheduling."