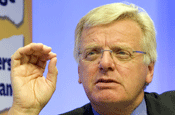 Kangaroo, which is backed by ITV, Channel and the BBC, is currently under investigation by the Competition Commission which has scuppered its planned autumn launch.

However, ITV's executive chairman Michael Grade remained hopeful that it would get the go ahead to launch early next year.

He said: "The Competition Commission is looking at Kangaroo - we don't know their timeframe but we hope it is resolved and ready to launch in the early part of next year."

ITV's half-year results statement, which showed a fall in pre-tax profits of 28 per cent to £91 million, included an adjustment in its online revenue projections, blamed partly on the delayed launch of Kangaroo.

The broadcaster said that its online target of £150 million in online revenues would now be reached by 2012 rather than 2010.

ITV is also hoping for news on Ofcom's review of the Contract Rights Renewal trading mechanism.

Grade said that it by September it "may get some sense of the direction it is going in."