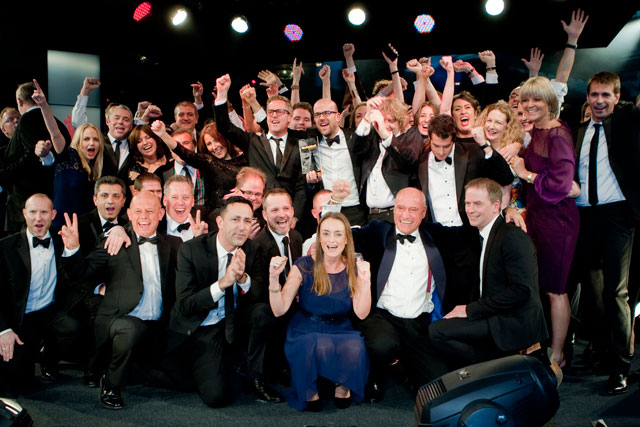 ITV won the award for Sales Team of the Year in recognition of the results of its new sales strategy, including non-spot revenues climbing by 32 per cent, as well as Brand of the Year following the rebrand of all its properties in January.
The broadcaster picked up the Grand Prix for the second year in a row in recognition of the TA Live From Helmand campaign, which saw live footage from Afghanistan broadcast on ITV to promote the TA.
Judges said Manning Gottlieb OMD, led by the chief executive Robert Ffitch, was the type of agency they would "want in their corner". The agency is on track for its third year of double-digit revenue growth and staff churn is less than half the industry average.
Media Week's editor, Arif Durrani, said: "These are my sixth Media Week awards, but the quality of entries and the awards ceremony itself really were exceptional this year. The UK's media industry has had to adapt to unprecedented change, but real success stories with significant new revenue streams are starting to emerge.

"It has been a fantastic year for both ITV Media and Manning Gottlieb OMD, no one in the business will argue with that and they fully deserve their time in the spotlight. But all of this year's winners and commended shortlisted entries deserve recognition in a year co-chair Steve Hatch, chief executive of MEC, notably referred to as a tsunami of a high watermark."
Manning Gottlieb OMD winning Media Week's Agency of the Year 2013 last night.
View more photos from the night here.
Watch MG OMD's Robert Ffitch's reaction to winning Aegncy of the Year here.

Full list of Gold Awards:
Media Idea Small
Snickers Misspelling
MediaCom

Media Idea Large
TA Live
MediaCom

Media Idea Launch
Stoptober
MEC

Media Idea Re-launch
Relauch of Daft Punk 2013
the7stars

Media Idea Medium
Paddy Power
Sky Tweets
M2M

International Campaign
Visa Europe: Moments of speed
MEC International

Small collaboration (budget under £250,000)
Subtitled French Ad Break
Channel 4

Large collaboration (budget over £250,000)
Morrisons with Ant & Dec
ITV

Media Idea Small
Snikkers - Yu cnat spel properlie wen hungrie
Google UK

Media Idea Medium
Matalan with This Morning and Closer Magazine
ITV

Media Idea Large
Morrisons with Ant & Dec
ITV

Media Idea Launch
Take The Stage
Metro

Econometrics
TUI Econometrics
MediaCom

Data Innovation
East Coast Capacity Management Media
Havas Media

Research Insight
Meaningful Brands
Havas Media

Real World Britain
MediaCom

Rising Star - Media Owner
Claire O'Farrell
Dennis Publishing

Rising Star - Agency
Stacy Westhead
atom42

Media Creativity
TA Live from Hellmand
ITV and MediaCom

Media Innovation
Bodyform: The Truth
Carat

Media Brand of the Year
ITV

Media Agency of the Year
Manning Gottlieb OMD

Sales Team of the Year
ITV Commercial

Grand Prix
TA Live from Hellmand
ITV