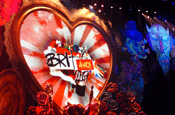 Next month, seven agencies will battle it out to fill one of the four available 60-second slots - one for each ad break of the awards show.

The public will then be asked to vote on which ad they thought was the best.

The successful agencies will be briefed with writing, casting and performing an ad, to be filmed live on the night, for a client of their choice in one of four consumer categories: food and drink, electrical, grooming, and household products.

Agencies will also be able to choose their own directors and production people for the night.

ITV will provide each agency with a dedicated soundstage for the evening, as well as a producer with a background in live TV and backstage staff.

Throughout the night, ITV2 will show live backstage footage of the ads being rehearsed and filmed, as well as running short documentaries in the days leading up to the awards.

These will also include interviews with the creatives, actors and clients.

Earlier this year, the Brit Awards were hosted by Ozzy and Sharon Osbourne and attracted an audience of more than seven million viewers.