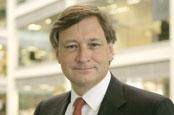 ITV said the changes are the culmination of managing director, ITV Brand and Commercial, Rupert Howell's review of the business alongside Boston Consulting Group. Howell will retain his title and role.

The restructure should be in place by the first week of November after the completion of a six-week consultation period.

Gary Digby will retain the same role, but his title is expected to change from director of customer relations to commercial sales director. It is thought that about 25 redundancies are expected from the restructure of the 500-strong commercial team.
There are expected to be eight teams in operation to look after media agencies and on each team there will be representatives looking after trading, sponsorship, interactive and online sales. There will be no changes to ITV's sales systems as a result of the restructure.
Each team will be headed by a key account director and it is proposed that the teams will report to this figure and the relevant director for their area of expertise, such as online.
This director level comprises Gary Knight, brand partnership director; Gary Cole, head of online revenue, and Simon Lent, trading director. The future of these three executives, in addition to the rest of ITV's commercial team, is under review.
Howell said: "The feedback we got from the agencies is that they were sick of having several points of contact and wanted to stop duplicating work. We want to help them have a much clearer relationship with ITV and to streamline customer contact. The agencies look at the markets in an integrated way and so we should be selling it in an integrated way."
A new creative solutions team will also be assembled, which Howell said is essentially a revamped version of the existing planning team, headed by Simon Orpin. There will also be a newly created role called creative solutions director.
The 10-strong business development team, headed by Leon Barnett, will remain intact and continue to focus on relationships with smaller agencies and clients. Staff were briefed yesterday on a restructure that will affect both the 400 commercial staff in London and 100 based in the regions. ITV wants the changes to be made in time for the start of the TV trading season later in the year.