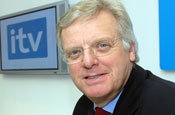 Profits fell from £281 million in 2007 to £167 million in 2008 on the back of he slump in the advertising market which executive chairman Michael Grade described as "the most challenging I have experienced in over 30 years in UK broadcasting".
"Our priorities have to be aligned to the changed economic context... we are focusing on our core business as a producer-broadcaster, on reducing our costs and on cash generation. Our audience share targets remain unchanged," Grade added.
Media buying estimates suggest that the broadcaster will record a further slump in ad revenue of around 20 per cent for the first quarter of 2009. However Grade insisted this morning: "We are continuing to deliver our advertisers mass audiences night after night and are holding our share of audiences and of television advertising."
Grade also focused on ITV's attempts to overthrow the current CRR rules, saying "we welcome the progress we are starting to see with respect to regulation".