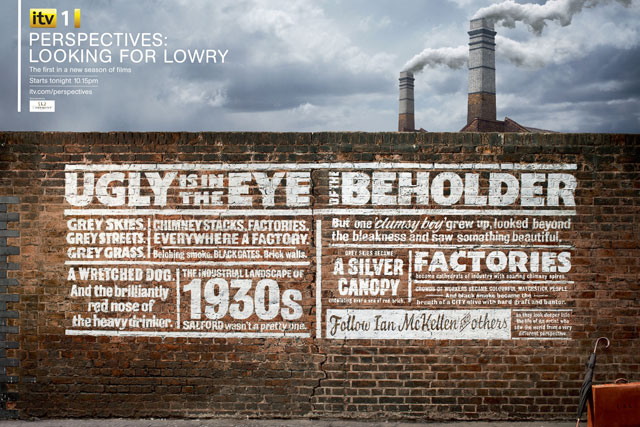 The first ad promotes this Sunday's documentary called 'Looking for Lowry' with Ian McKellen who joins fellow Lowry fans to explore the much loved painter's Manchester, looking at his life and legacy.
The ad features stencilled writing on a wall such as 'beauty is in the eye of the beholder' while turrets of a factory peer over the top of the wall.
There will be other ads for the following films from Perspectives: 'Pre-Raphaelites' with Andrew Lloyd Webber, 'Pitman' with Robson Green and 'New Orleans' with Hugh Lawrie.
David Kolbusz from BBH was the creative director on the ads and the creative team was Alex Ball, Will Holmes and Rory McCaskill.
The ads will appear in The Sunday Times, The Times, The Observer, The Guardian and FT Weekend.
Production company Locate Productions worked on the ads with producers Luke Jackson and Alex Pasley-Tyler.