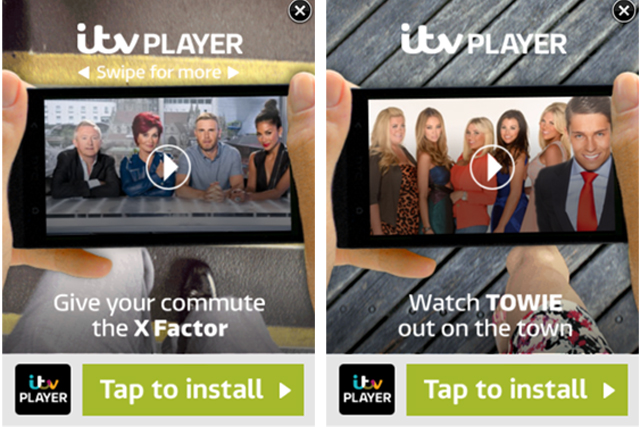 ITV Creative worked with Mindshare UK, which used technology from mobile ad company BlisMedia to tailor ads around the time of day and the viewer's location.
The campaign will target areas near public transport and train stations and tube stations with ads across a range of mobile sites, during the commuting hours between 7am and 10am and 5pm to 8pm.
An image of the judges from ITV's flagship show 'The X Factor' will appear, with the tagline, "Give your commute the X Factor."
Commuters at stations and on high streets will also receive ads featuring 'Coronation Street' stars who say, "Take Corrie on your commute".
In the evenings from 8pm, the campaign will encourage people in their homes to download the app to experience "Downton in your down time", with an image of characters from ITV drama series 'Downton Abbey'.
For those in a pub or bar on Fridays and Saturday evenings and afternoon, the ads displayed will promote 'The Only Way is Essex' with the slogan "Watch TOWIE out on the tiles".
James Chandler, the head of mobile at Mindshare, said: "This campaign is a great example of mobile-first thinking around the premise of location, context and time – not just where someone is, but in the context within their day be it travelling to and from work or winding down in the evenings.
"The key was getting the art and science to work together and ITV Creative have done a great job in producing creative that acknowledges this targeting."
ITV recently launched its latest trail for its drama programmes, featuring cameos from actors in current shows like 'Downton Abbey' who were joined by digitally recreated characters from past shows such as 'Morse'.