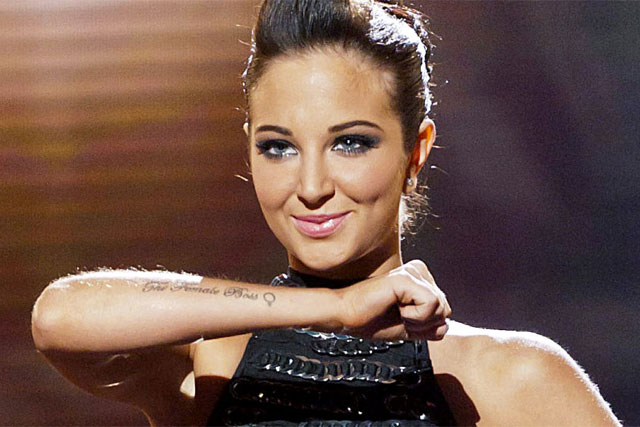 During an episode of 'The Xtra Factor' on 29 October 2011 the presenters made reference to the release of Tulisa's perfume and her salute, which was described as her "signature greeting".
Contostavlos' TFB perfume was wrongly called "The Female Boss" on the programme. Presenter Olly Murrs also asked why Contostavlos "was smelling so nice" and said the perfume and salute were "catching on".
Ofcom said the segment gave undue prominence to the perfume in breach of Rule 9.5 of the Broadcasting Code. It ruled that in light of the prominence and Murr's endorsement, the sequence broke rule 9.4, which bans "selling messages".

In contrast, Ofcom said the salute, which clearly presented Contostavlos' tattoo of the words The Female Boss, did not promote or give undue prominence to her perfume, which Ofcom noted had a different name.
Today's decision follows an investigation into whether the episode of 'The Xtra Factor' on 29 October, 'The X Factor Results' on 6 November and 'The X Factor' on 12 November broke Ofcom rules.
A separate investigation into a viewer competition, which presented the three possible answers in two different ways on 22 October, was resolved after ITV took steps to remedy the situation.
Channel TV, the ITV network's compliance centre, said the answers were first presented as – a) Food, b) Love and c) Respect. An error made during late changes to the graphics then changed this to – a) Love b) Respect and c) Food.
The competition was closed as soon as the mistake was spotted by the organisers and all mention of the competition was removed from subsequent broadcasts. Viewers who had already entered were contacted and offered a refund.
ITV mentioned the mistake during the following night's broadcast and changed the PRS numbers to avoid confusion when the competition was relaunched the following week. It also improved its approval procedures to stop it happening again.
Because of these actions, and even though the competition was in breach of Rule 2.14 and viewers could have been materially misled, Ofcom said it considered the matter resolved.

'The X Factor' has been investigated a number of times recent years. In January 2011 Ofcom ruled 2010's series breached the code for promoting singles by Michael Bublé and Diana Vickers, the programme's guest performers.
Follow Maisie McCabe on Twitter @MaisieMcCabe