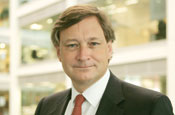 Last week, it emerged the broadcaster would be culling approximately 1,000 jobs from across its 5,500-strong workforce, with 425 positions going from its finance, press and publicity, global content and brand and commercial divisions.
Howell, managing director, ITV Brand and Commercial, warned he cannot rule out more redundancies in the future, calling the ad market "very volatile".
Talking exclusively to Media Week, he said: "The redundancies are right across the company and all our central services are being heavily trimmed back. It means we will be going for a total workforce of 5,500 down to approximately 4,500. For the time being that's the plan, but we will have to react to the market. Right now, those cuts should deliver the turnaround plan - a five-year plan - but we are only one year in to that plan and the market is very volatile."
The restructure of ITV's commercial team, due to be completed by 1 November, will see Orpin, formerly ITV integrated planning director, appointed creative solutions director.
He will be responsible for the development of content partnerships, as well as developing commercial relations with creative and strategic planning agencies. A team of four creative solutions planners will report to him.
Mark Trinder, previously senior client development director, and Jeremy Lawrence, previously trading account director, have both been appointed to the newly created position of group account directors. They will report to Gary Digby, ITV commercial sales director, and are responsible for managing senior relations with group agency and client teams.
Additionally, Simon Lent remains trading director and Ben Allen, former trading account director, has been appointed deputy trading director and will report into him.
Gary Knight, previously titled brand partnerships director, retains the same role, but will now be called sponsorship, AFP and interactive sales director.
Gary Cole remains in the role of online sales director and Leon Barnett, previously business development director, will keep the same brief, but will now have the title of group account director, development agencies.