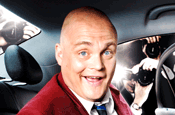 The series, which returns later this autumn for a seven-week run, will carry Getminted creative.

The campaign will be run through the agency Biscuit, with the theme "what men talk about in the pub".

ITV Customer Relations negotiated the deal with SPP, the sponsorship division of Walker Media.

In a separate deal, ITV has also found a sponsor for the new series of the ITV1 show All Star Family Fortunes.

Winkbingo.com will sponsor the series with idents backed by red button sponsorship and mobile interactive links.

The sponsorship was negotiated with ITV through WinkBingo.com's media agency AdConnection.