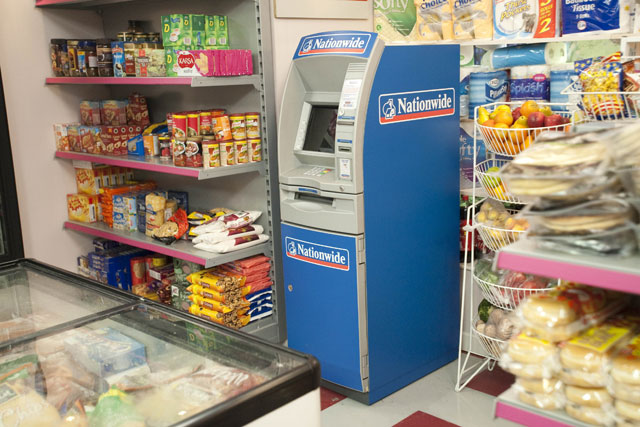 The product has been placed inside the shop as part of an initial four-month deal understood to be in the low six figures and is the first to be included in the show.
A branded swing board has also been placed outside the premises and, depending on the storyline, could appear in episodes transmitted on screen from 14 November.
Andy McQueen, marketing director for Nationwide, said: "We are really excited to be working with 'Coronation Street' by providing an ATM for Dev's shop to bring Nationwide into the everyday lives of its nine million viewers.
"We are always looking for new ways to engage with our existing members and new customers and feel that this partnership fits in really well with our overall marketing approach.
"This is part of our ongoing campaign 'On your Side' which launched in September targeting existing and new customers which focuses on how we as a Building Society are here for our customers."
Product placement has been allowed in UK TV programmes since 28 February 2011. ITV1 was the first channel to sign a paid product placement deal featuring Nestlé coffee brand Dolce Gusto during its 'This Morning' programme the day the regulations were relaxed by media regulator Ofcom.
The deal was brokered by Nestlé's retained media agency WPP's Mindshare and was valued at an estimated £100,000.
Gary Knight, commercial content director at ITV, said: "I am delighted that the first steps into product placement for Britain's best loved soap, will be with the Nationwide Building Society, who also enjoy such a strong and close relationship with the British public.
"Editorial integrity remains at the heart of what we do as we continue to talk our clients about a number of product placement opportunities, spanning a range of programmes and channels."
Nick Price, head of content at MPG Media Contacts who brokered the Nationwide deal, said: "This is the first product placement deal for one of ITV's flagship peak-time shows, and we believe it will be the tipping point for a wave of new product placement deals over the coming year.
"We are very proud to be delivering the first product placement partnership for Nationwide Building Society, demonstrating that we are continuously extending our capabilities for our clients to access in this modern media world."
ITV is currently restricted by Ofcom from including product placement for alcohol, with one of the most prized placements in 'Coronation Street' pub the Rovers Return continuing as the fictional Newton and Ridley beers and ales.
Follow Mark Banham on Twitter @Banham72