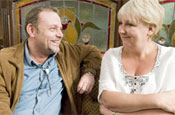 Ben Bradshaw is expected to announce this week that commercial broadcasters will be allowed to charge brands to place selected products into UK TV shows for the first time.

It is understood programming aimed at children will still be banned from the practice and the new rules will not apply to the BBC.

Lifting the ban on product placement, which could effectively mean the tipple of choice in The Rovers Return switching to Stella or Fosters, would be a welcome boost for the UK's commercial broadcasters who are struggling to deal with the downturn in advertising revenue.

An ITV spokesman said: "If the Government does decide to permit product placement, it will be warmly welcomed by the commercial broadcasting industry and advertisers alike.

"ITV plc has led the campaign for product placement in the UK, which could be an important new revenue stream - as it already is in Europe.

"Reforming the UK prohibition would also be a welcome acknowledgement of the pressures currently faced by an industry in transition. New sources of revenue means better funded content - which can only be good news for viewers."
Tess Alps, chief executive of TV marketing body Thinkbox, whihc represents the main commerical broadcasters in the UK, also welcomed theturnaround, but warned TV companies would not benefit unless the change in rules brought in new money.
"Everyone in the TV industry must now ensure that this liberalisation attracts new money for original UK production," she said.
"It won't help anyone if placement is just money moved from other TV activity. I trust that no placement agencies or producers will try to sell placement by undermining trust in spot advertising, which is the major engine of UK TV production, and where the number of ads seen at normal speed has never been higher," she added.
Product placement is widespread in the US and is also legal across Europe, but previously the government has denied programme makers the ability to take payment in return for placing products on screen.

Former secretary of state for culture, media and sport Andy Burnham said earlier this year said he had no plans to lift the ban and he had "very serious concerns" the boundaries between advertising and editorial would be blurred. In June last year Burnham said that product placement in TV shows would "contaminate our programmes".

But his replacement Ben Bradshaw, a former BBC reporter drafted in when Burnham moved to the health department, appears to have had a change of heart.

Just last month, media agency TV chiefs predicted television ad spend in the third quarter of 2009 would be down about 16% compared with the same period last year, while ITV said its television ad revenue declined by 15% in the first half of 2009, forecasting that revenue would be down 12% in Q3 and 7% in September.
ITV's 2008 results showed the broadcaster plunged to a £2.7bn loss after a huge write-down in the value of its assets. In August, Five posted a pre-tax loss of €19m (£16.7m) for the first half of 2009, as its parent RTL Group warned the UK TV market has been "strongly affected" by the recession.