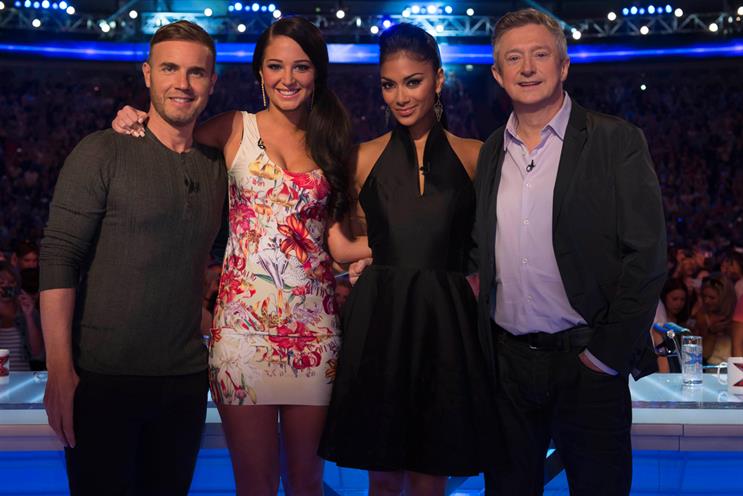 At its upfront presentation last week, ITV demonstrated the range of talent it owns. Media agency executives and marketers got to see The X Factor judges sitting alongside David Walliams and Alesha Dixon from Britain's Got Talent, hear Gareth Southgate's views on that goal by Zlatan Ibrahimovic and listen to David Tennant and Olivia Colman talk about their new whodunnit.
Held at the ITV Network Centre on London's South Bank and fronted in the most part by the voluptuous Holly Willoughby (who got the biggest cheers of the evening), it was a slick event. There were clips from the heavily trailed Mr Selfridge, a quiz to embarrass the TOWIE crew and a preview of a new Ricky Tomlinson comedy.
Rufus Radcliffe, ITV's group director of marketing and research, unveiled ITV's brand new logo and identities for the first time. The main channel will drop the "1" from its name and the curvy, handwritten-style logo will take on different colours according to the channel or the context.
Radcliffe says the aim is to "elevate" the ITV brand to make sure it gets the credit it deserves for delivering content people love. Agencies received the changes warmly. "I really like it," Chris Walsh, an investment director at Manning Gottlieb OMD, says. "I like the idea of the changing idents and logo. It all just seems to fit."
Despite the changes at ITV over the past couple of years, the upfront was a traditional affair. As much talent as possible was conscripted for the evening and there was none of the future-facing digital initiatives and panel discussions of Channel 4's event the week before. This was all shiny floor stuff.
Yet ITV is good at the shiny floor stuff. The shiniest of them all, The X Factor, has delivered lower audiences this year. But Ben Angove, a screen director at Walker Media, says: "Even if it loses 20 per cent of its audience, it'll still be huge."
If audiences decline, resulting in a rise in prices for shows such as The X Factor, there could be a problem. "The only issue would be if its pricing started to significantly increase," Luke Duffy, the head of broadcast at Aegis Media central trading, points out. "There will be a little bit of inflation due to loss of impacts, but these shows are still pivotal with clients."
Although ITV1, or ITV as we shall soon be calling it, has lost share, agencies are not too concerned. "In a year of digital switchover, Olympics and everything that is going on in the market, ITV is performing well," Walsh states. "It has had great success with BGT and I'm A Celeb…. We are looking at The X Factor, but we don't have concerns yet as it's still great content that brings in viewers."
Although ITV cannot play in the big league of sports rights, it has the strongest free-to-air commercial schedule. Agencies were shown a taster of the football, rugby and tennis their clients can look forward to advertising alongside next year. Angove was impressed, saying ITV's "sport looks really good and there's lots of it".
Ruth Cartwright, the broadcast director at Maxus, praises the channel's continued investment in drama. Alongside the probable return of Downton Abbey and Doc Martin, there will be the aforementioned Mr Selfridge and Broadchurch. There will also be a stab at comedy and the return of Ant & Dec's Saturday Night Takeaway.
"It's good to see there's still a strong focus on drama, which has always served ITV and its advertisers well," Cartwright says. "ITV has a strong portfolio approach, especially with the new branding, and is making decent inroads with its multiplatform offerings."
That is not to say it was perfect. There were grumbles that the presentation went on for a bit long and some sources suggested Jonathan Ross' delivery was a little "punchier" last year. Also, Angove says he would have liked to have heard more about how ITV's content links up with its digital product and other innovations.
But it was generally observed that the transformation plan is teasing out a more confident ITV. As Fru Hazlitt, its managing director of commercial and online, says, ITV should be "unashamedly mass market" and reclaim its position at the "heart of popular culture". Yes, some of its shows might be getting a little formulaic, but why should ITV get rid of anything that is commercially successful? As one trader puts it: "I want ITV to kick the arse out of anything that is still making money."