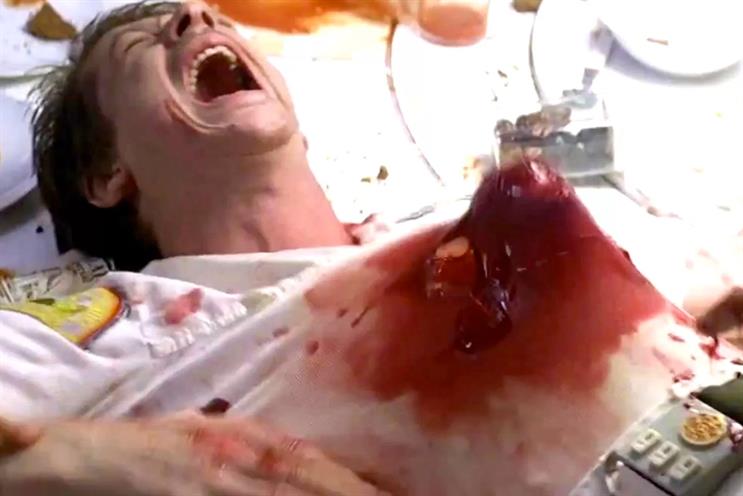 Ofcom received five complaints about the explicit images from the 1979 science-fiction film in which an alien punches through Hurt's chest.
The obituary was shown in a news programme broadcast on 28 January at 9.25am. It aired directly after the children's show Scrambled!, an ad break that included toy commercials, and a trailer for the kids' show.
At the very start of the bulletin the presenter said: "Sir John Hurt, the actor best known for one of the most scary and gory scenes in film history, has died. He was 77 and had been suffering from cancer. The Oscar-nominated star of screen and stage appeared in more than 100 films in a career spanning six decades".
The presenter then introduced a pre-recorded obituary of John Hurt. It began with a clip of the actor in the film The Elephant Man, and was accompanied by a correspondent, who said: "He was one of our best known and most versatile actors, who moved audiences to tears in The Elephant Man."
This was followed by a ten-second clip from the film Alien, as the correspondent explained: "This scene in Alien is often voted as one of cinema's most memorable moments."
The clip was of Hurt's famous "chest-buster" scene. In it, his character Kane wears a blood soaked t-shirt and struggles violently on a table surrounded by other cast members. They pull away in shock as a blood-soaked alien bursts from a gaping, bloody hole in Kane's chest.
Ofcom decided the broadcast breached Rule 1.3 of the UK broadcasting code, which states, "Children must... be protected by appropriate scheduling from material that is unsuitable for them".
ITV apologised for the clip, which had been shown "in error". The broadcaster said the ITN compliance manual would be revised to include a specific reference to "the need to take care when using images or clips from dramas and films in pre-watershed reports, such as obituaries".
Ofcom ruled: "The clip as broadcast, despite its relatively brief duration, contained strong and very bloody images, showing a character's agonising pain and ultimate death.
"Ofcom considered that parents and carers were unlikely to have expected material of this nature to be shown on ITV before the watershed and immediately after children's programming had finished."