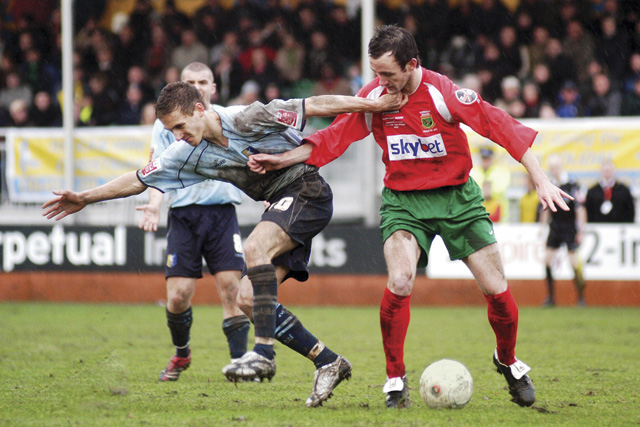 When the ITV chief executive, Adam Crozier, finally unveiled the broadcaster's much-anticipated Transformation Plan (a year ago, almost to the day), coverage understandably tended to focus on the big statements of intent and the ambitious broad-brush targets.
ITV, Crozier stated, was determined to evolve its commercial models to reduce its exposure to volatility in the ad market - and, in becoming a "global multiplatform media company", it would seek, within five years, to derive half of its revenues from areas other than traditional spot advertising. Many observers, not least in the City, nodded sagely at this. The future was surely about all sorts of new advertiser partnerships - but more than anything, it had to be about developing innovative business models online.
Aside from that, though, the detail was hazy. Sadly, perhaps, it still is. At last week's interim results announcement, ITV revealed that, while it's achieving more than decent growth where internet income is concerned, that income is still nowhere near "transformational" territory. Broadcasting and online revenues for the first six months were £887 million, while online alone, although up 33 per cent compared with the first half of 2010, only delivered £16 million (all of which is advertising revenue).
ITV is getting to the stage where it needs to transform its transformational strategy - and that, in a nutshell, was why there was so much talk of pay-TV at the results presentation. Not just any old pay-TV at that, but pay-TV online - involving a whole new form of exchange called "micropayments".
Again, though, the detail is hazy. The micropayment notion is that viewers are asked to pay a matter of a few pence to view programmes: but there are lots of possible ways of managing this. Crozier said that ITV was only really at the stage of looking at different models involving different types of content - and that the picture might become clearer come January.
There have always been critics who've argued that pay-TV (in any form) is not something ITV, given its heritage and the ongoing balance of its skillsets, is ever likely to get right. One thing's for sure, however - a shift in ITV's focus is likely to have significant implications for its relationship with advertisers.
Steve Platt, the trading director at Aegis Media, says that ITV's optimism is more than admirable, but he adds: "The problem ITV has is that it's very good at making mass-market programmes that everyone is accustomed to getting for free. So, to get people to pay for them is a tough proposition. I applaud the fact that it's doing this - but you can argue that it's entering this market at a very late stage. And ITV shouldn't ever lose sight of where most of its revenues come from - it has to be careful it doesn't throw the baby out with the bath water."
Absolutely, Jean-Paul Edwards, the executive director, futures, at Manning Gottlieb OMD, agrees. He also points out that, where online TV is concerned, it's vitally important for ITV to get some crucial strategic decisions right. He says: "It needs to develop a killer app. Lots of media companies, for instance, are experimenting with bitesized content (to sell on a micropayment basis). And then there's the platform question. What seems to work best are the payment platforms like Apple or Facebook. Or do they ask for a one-off payment to access parts of ITV.com? The disadvantage of using someone else's payment platform is that they'd take a slice of the revenue."
Investors will surely be unreservedly pleased, though. For years, they've been urging ITV to reduce its exposure to the advertising market. Haven't they? Actually, Lorna Tilbian, the executive director at Numis Securities, reveals, the City seems to be coming round to the view that ITV should perhaps focus on its traditional strengths. She adds: "I think the feeling is that, to succeed in pay-TV, you need must-have content like sport and movies. It's true that investors don't like the cyclical nature of the ad market but they might argue that the real solution is a strong balance sheet. This will allow you to manage the vagaries of the advertising market and mask the effects of a downturn."
David Cuff, the founder of Cuff Media, also has many reservations. He concludes: "For pay-TV to become a significant revenue stream, you need to offer something that differentiates your product from what's already available. ITV traditionally has strengths in a certain type of programming. If it now has to think about other types of programming designed to deliver pay-TV revenues, then that might give it something of a split-personality. That might prove hard to manage."
MAYBE - Steve Platt, trading director, Aegis Media
"ITV might want to start producing content specifically for pay-TV. You'd have to wonder whether it would be able to do that while producing big, popular free-to-air programmes too."
MAYBE - Jean-Paul Edwards, executive director, futures, MG OMD
"Most economically active people are online now and the technology barrier has essentially disappeared where internet TV is concerned. But it's also true that ITV needs to look after its primary advertising customers."
MAYBE - Lorna Tilbian, executive director, Numis Securities
"ITV has the sorts of big-audience programmes that no-one else can dream of producing - so there are those in the City who wonder why you would try to change that and begin competing for pay-TV revenues."
MAYBE - David Cuff, founder, Cuff Media
"I'm not sure if the potential rewards balance the risks - but ITV executives will obviously be looking very closely at this. My feelings generally about micropayments is that they deliver micro-revenues."