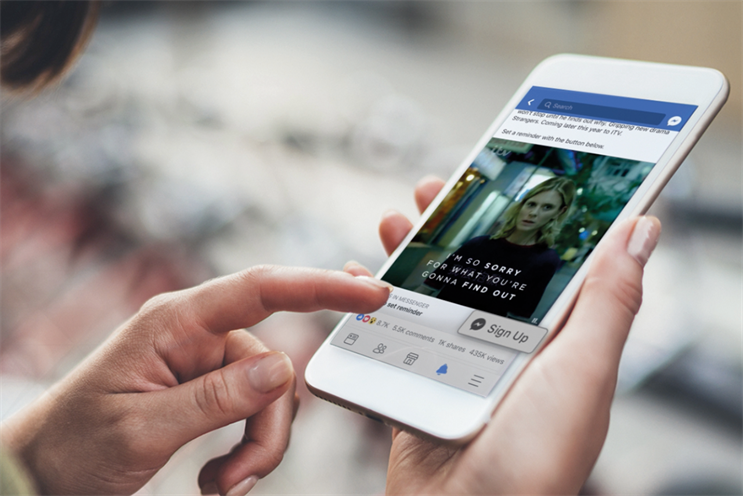 ITV wanted to attract a large audience to watch its drama shows this autumn, which include Vanity Fair, Strangers and Butterfly.
The broadcaster wanted to drive greater awareness of the content and, most importantly, to inspire and enable people to watch it.
ITV wanted eye-catching creative that also had a tangible call to action and would facilitate a longer-term relationship with the audience.
The network believed that the way to do this was to provide a utility that would make viewers' lives simpler. It wanted to create a way for users to set reminders for the most-anticipated programmes, discover similar shows and recommend them to friends.
ITV worked closely with entertainment industry leads at Facebook and digital agency Powster to make this happen.
Getting personal
They created the ITV Reminder Bot. The Bot fires up a Programme Guide webview where the user can toggle on/ off the shows they would like to set a reminder for, watch exclusive content and share. Once this is set up, users receive a personalised prompt, via Facebook Messenger, to say that the programme is starting soon. This simple and seamless execution worked well as it allowed ITV to have a personalised interaction with the audience.
More insight, more accountability
The activity provided ITV with an effective metric to measure its social advertising and has generated "amazing results", with a nearly 2% conversion rate of that reach throughout the campaign. The Bot provides a user-initiated nudge to watch their content and is the perfect match of mobile social apps and TV.
Paul Ridsdale, Acting director of network, marketing and media, ITV
"We're always looking for new ways to convert broad awareness of ITV programmes into a proper commitment to watch.
"This work with Facebook and Powster has been one of our most successful initiatives to date."
Jeremy Lee, Contributing editor, Campaign
As well as simplifying and personalising the live viewing experience, with this bot ITV has tapped into our desire to enjoy shared viewing with our friends in a simple, user-friendly way. Facebook has shown that rather than detract from older media such as TV, it can enhance it."
Laurian Osborne, Client solutions manager, Facebook
"We're thrilled the latest iteration of ITV's 'Remind Me' Messenger experience has been so successful. Building on the simple, single show 'Reminder' functionality, developed with ITV and Powster at the start of the year, it allows people to personalise their TV viewing experience in a unique way."
To see this campaign and other great work, check out Facebook's Creative Hub.