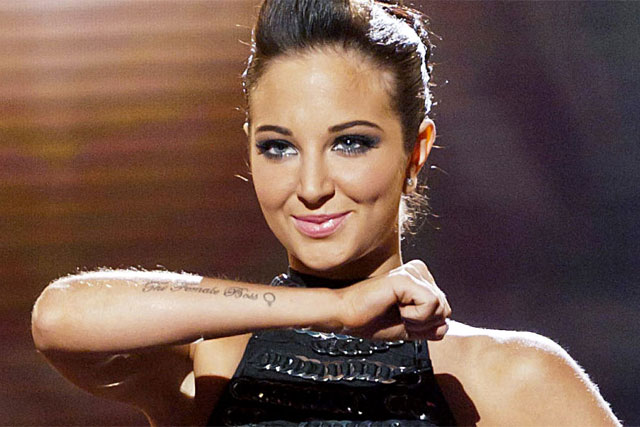 Contostavlos's arm tattoo reads 'The Female Boss'. It can be seen when she brings her arm up horizontally at the start of the show in what has become her signature move.
Contostavlos has had the tattoo since January. It is believed to refer to her role in the band N-Dubz, but it is also the name of the perfume she launched in October.
Ofcom announced today it had launched an investigation into whether an episode of 'The Xtra Factor' on 29 October, an episode of 'The X Factor Results' on 6 November and an episode of 'The X Factor' on 12 November, broke its rules.
In 'The X Factor Results' on 6 November Contostavlos's perfume was discussed and the show cut to a shot of her making the arm gesture.
It is understood that two different people submitted complaints. One person complained about 'The Xtra Factor' episode and one person complained about both 'The X Factor Results' and 'The X Factor'.
Ofcom will consider whether 'The X Factor' broke either rule 9.4 (products, services and trademarks must not be promoted in programming) or rule 9.5 (no undue prominence must be given to a product service or trademark) of the Broadcasting Code.
It is not the first time 'The X Factor' has prompted an Ofcom investigation. In January the regulator found last year's series breached the code for promoting the singles by guest artists, Michael Bublé and Diana Vickers.
In September, Ofcom warned broadcasters to be more careful about content shown before the 9pm watershed, following the controversy over the performances of Rihanna and Christina Aguilera on the programme in 2010.
Follow Maisie McCabe on Twitter @MaisieMcCabe