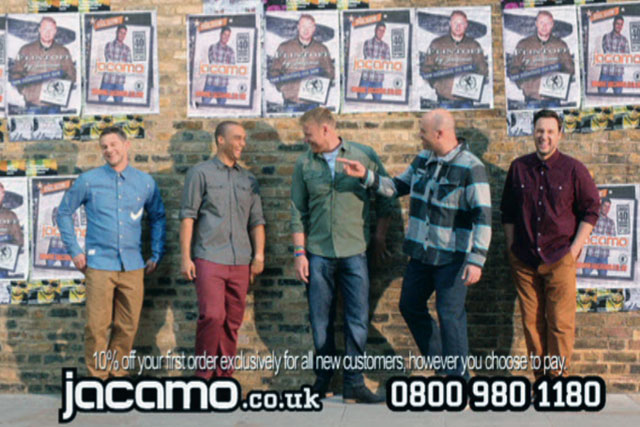 Ahh, now I get it. It's a nudge-nudge, wink-wink way of advertising products for gentlemen of the larger persuasion. 'Blokes who like to look good' is secret code for men who find it difficult to find clothes that fit them properly because they are, shall we say, bulky.
But now, thanks to Jacamo's range of sizes, apparently they can look good too.
I deciphered the plot mainly by looking back at some of the old work featuring plus-sized stand-up comic, Johnny Vegas. Nothing subtle there. The earlier ads were blatant about who Jacamo was talking to.
Clearly, by switching from chunky Johnny to tall, but fit Freddie Flintoff they have changed tack.
I assume they have learned that their customers are not that pleased with their proportions. I'm guessing that whilst Johnny Vegas is happy for us to have a giggle at his expense, it's unlikely to be true of this particular audience. They're probably fed up with being the butt of the joke.
Being specific about the content of the ad, I have to say I preferred the honesty and humour of the old campaign to this more clandestine approach.
But I think Freddie is a clever choice of spokesman, given that he is way more of an aspirational 'big man' than Johnny V and that he has his own range of clothes. But it's one thing getting a performing artist like Johnny V to be the spokesperson and quite another to expect a cricket player to morph into Colin Firth (not that the script poses much of a thespian challenge).
I wonder if the commercial would have been more effective if it was devised in a more genuine way and if Freddie could have played a less cheesy role.
Nevertheless, I have no doubt that it's tough to get the tone of this emotional tightrope just right, so from that point of view I think Jacamo has done well. I bet they sell plus-sized clothes like hot cakes at a Sumo wrestlers congress.
Brand strategy verdict: 4 out of 10
From a strategic point of view, I do admire entrepreneurial businesses like these – ones that identify a niche and go after it aggressively with advertising.
Adwatch (Sep 26) Top 20 recall: Jacamo
Latest rank
Sep-19
Brand
Agency/TV Buyer
Recall %
1
(–)
Comparethe
market.com
VCCP/Zenith
Optimedia
53
2
(–)
Asda
Saatchi &
Saatchi/Carat
52
3=
(–)
Argos
CHI&Partners/
Mindshare
44
3=
(–)
Homebase
Leo Burnett/
Mindshare
44
5
(–)
Flora
Adam &
Eve DDB/
Mindshare
41
6
(–)
Comet
Euro RSCG
London/
ZenithOptimedia
35
7
(11=)
BT
Abbott Mead
Vickers
BBDO/Maxus
32
8
(–)
Cesar
Abbott Mead
Vickers BBDO/
ZenithOptimedia
31
9
-13
The Co-
operative
TBWA\Manchester/
PHD Rocket
28
10
(–)
Jacamo
The Gate
Films/Carat
27
11
(–)
Green Giant
The collaborators/
Universal McCann
26
12
(–)
The Sun
Grey London/M-SIX
25
13=
(–)
Harveys
HMDG/Mediavest
24
13=
(–)
B&Q
McCann-Erickson/
Zenith Optimedia
24
15=
(–)
Dreams
Re:production/
Starcom
23
15=
(31=)
Morrisons
DLKW Lowe/
Vizeum
23
17
(–)
Danone Actimel
Rainey Kelly
Campbell Roalfe
Y&R/MEC
22
18
(–)
The Trainline
DLKW Lowe/
Vizeum
21
19
(16=)
Currys & PC World
M&C Saatchi/
Walker Media
20
20
(–)
Hugo Boss (Nuit
Pour Femme Fragance)
Grey London/
Starcom
18