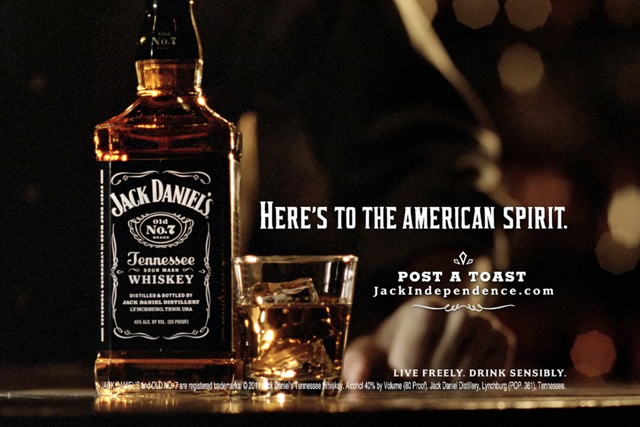 The Brown-Forman-owned whiskey brand is seeking a UK digital agency to devise a strategy for it to capitalise on its music ties.
The company is keen to emphasise its musical heritage, which dates back to a band formed by Jack Daniel in 1892. It has sponsored and hosted festivals and concerts worldwide for several years, and has a 'Studio 7' website, which lists exclusive gigs staged by the brand in the US.
Jack Daniel's made its first foray into social-media marketing earlier this year, with a campaign across Europe and Asia-Pacific intended to foster loyalty among its drinkers, and target young adults.
As part of the campaign, it launched a Facebook app that allows fans to report on music events and upload videos and photos. The activity includes a competition, whereby the site's most popular reporter will become an official Jack Daniel's live music reporter.
In July this year, the brand also launched an integrated campaign to highlight its US heritage. It included a TV spot, posters and a Facebook app that allows users to create or download Jack Daniel's posters.
Other alcohol brands with links to music include Smirnoff, with its Nightlife project, and Kopparberg, through its unsigned rock band campaign.
Brown-Forman is also turning to digital channels to boost the appeal of its Southern Comfort liqueur brand in the UK. It appointed Grape Digital in May to develop a strategy to make it appear 'more relevant' to UK consumers.
In its most recent financial results, Brown-Forman reported strong sales that were boosted by demand for Jack Daniel's products, including Tennessee Whiskey, Tennessee Honey, and its ready-to-drink variants.
It posted a 6% increase in net income to $118.1m, and a 13% rise in revenue to $840m for the three months to 31 July. The company also reported greater investment in its brands, with a 12% increase in adspend, mainly due to support for the launch of the Tennessee Honey variant in the US.
IN MY VIEW - EXPERT COMMENT
Simon Labbett, Creative director, Saint@RKCR/Y&R
Jack Daniel's has earned the right to have strong associations with music. It is, after all, the drink of choice for many a rock star. As with the average rock star, I believe it has fans, not drinkers; they want to be associated with it and engage with it.
Its drive has to give fans the ability to do so. Jack Daniel's must not just wallpaper the stage (digital or otherwise). It needs to add value, with fresh ideas that support the brand's raison d'etre.